Riley Students have been working with the School Counselor to practice mindfulness and breathing as a coping skill. Our students have learned different techniques to be used when they need to calm down or when they need to feel reenergized. Our favorite breathing technique of the month is the power breath. Raise your arms high, take a deep breath, throw your arms down and let out a huge HA!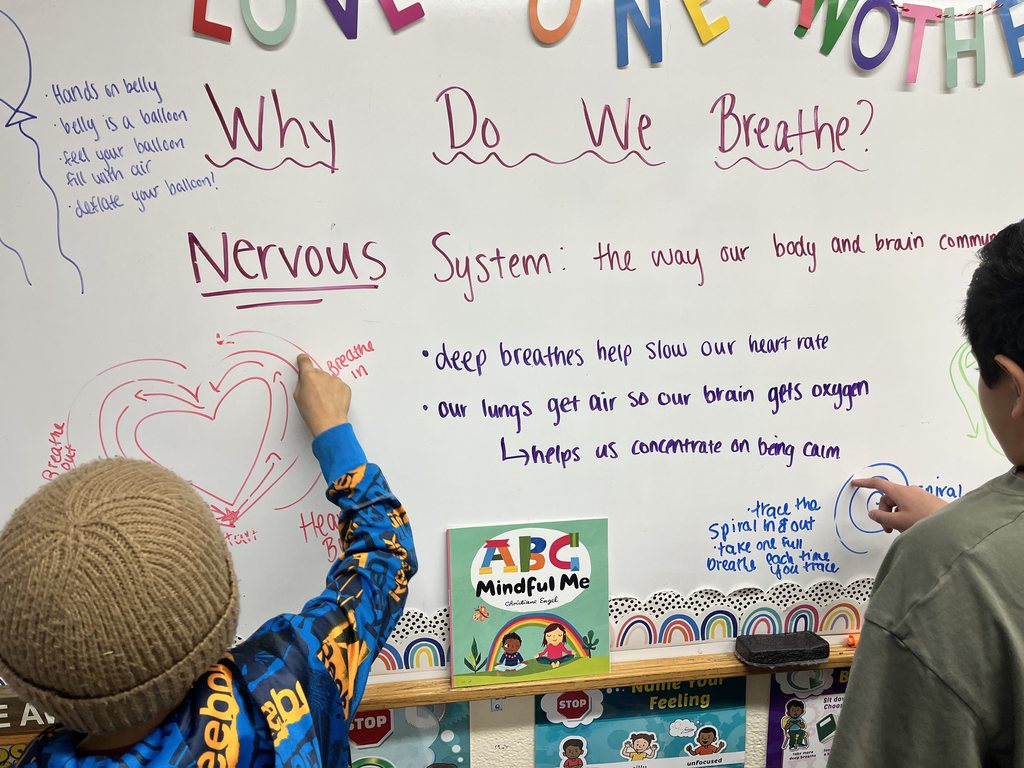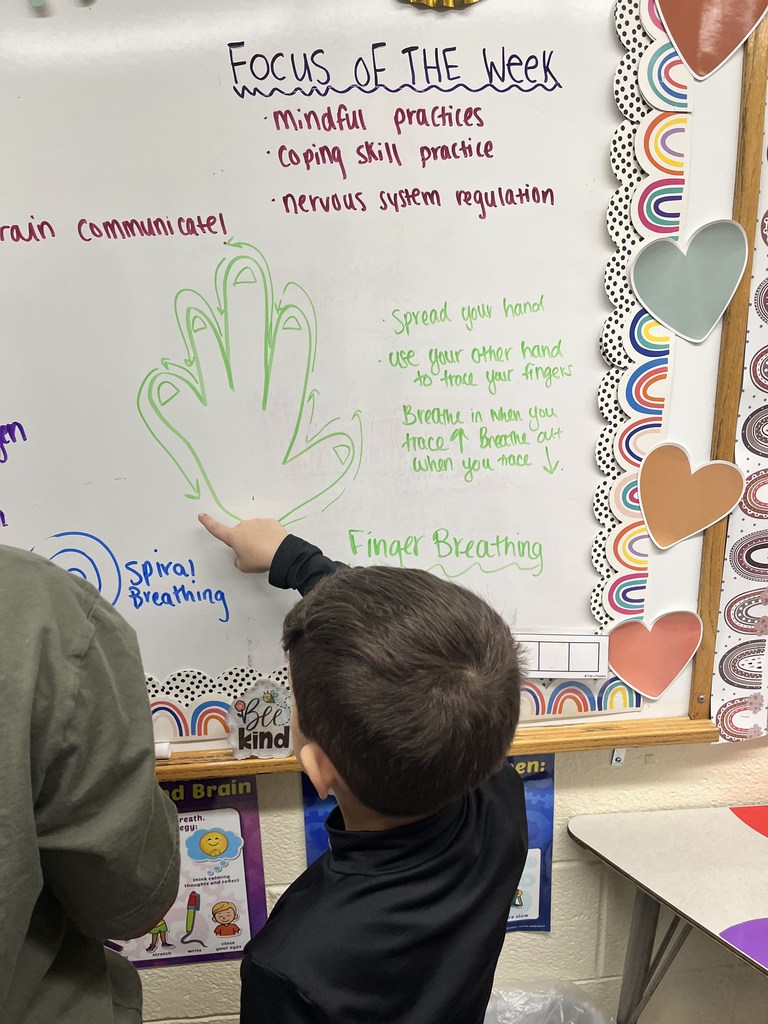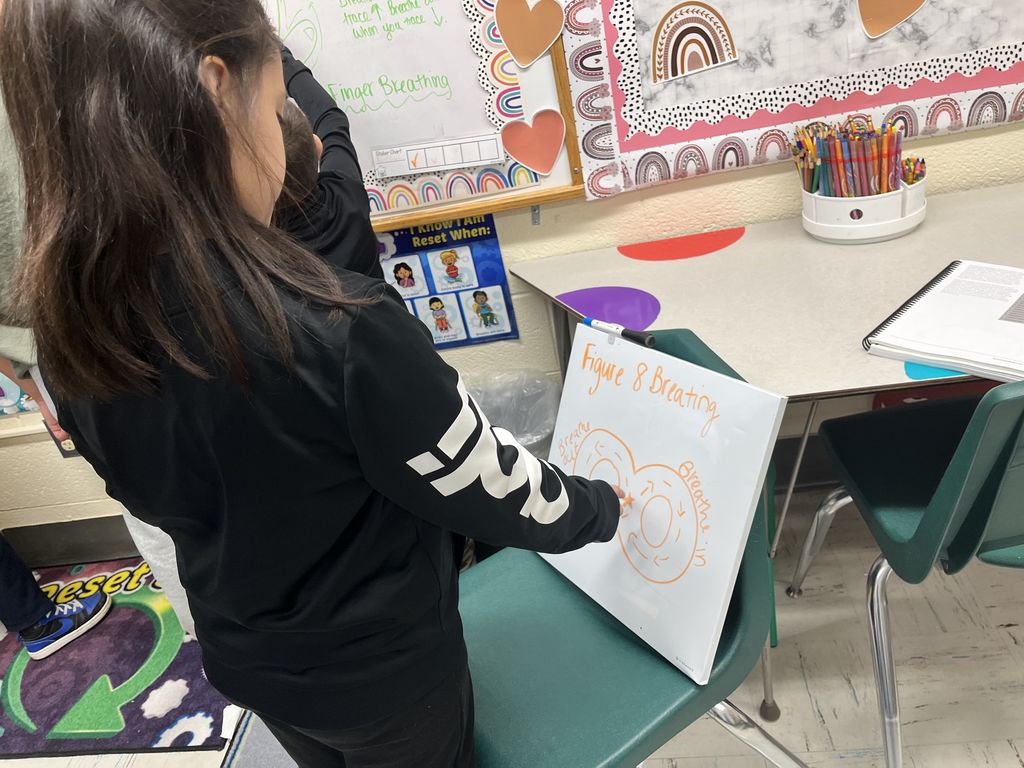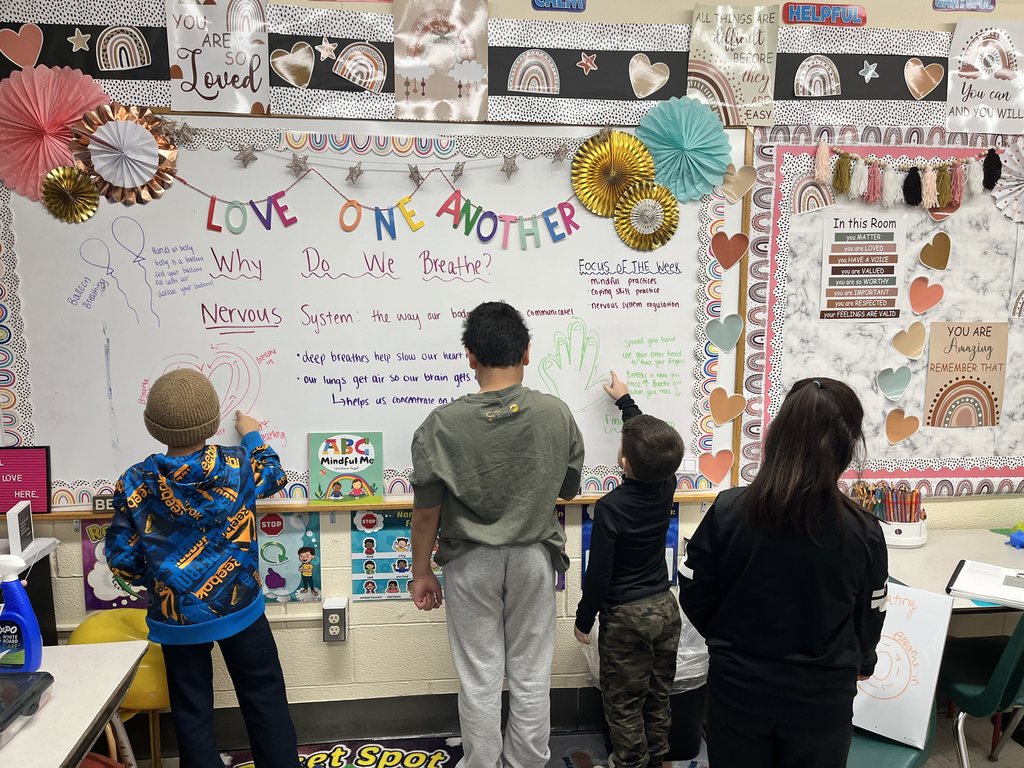 Riley Student Council took a field trip today to connect and give back to the community. Student Council representatives went to JFK Hartwyck Care Facility and participated in conversing with some of the residents and playing games with them. The students were able to assist these patience and provide some companionship during their time there. They did an excellent job and we hope to get back soon! A special thank you to Ashley Dispenziere who works at JFK Hartwyck and helped us coordinate this special event.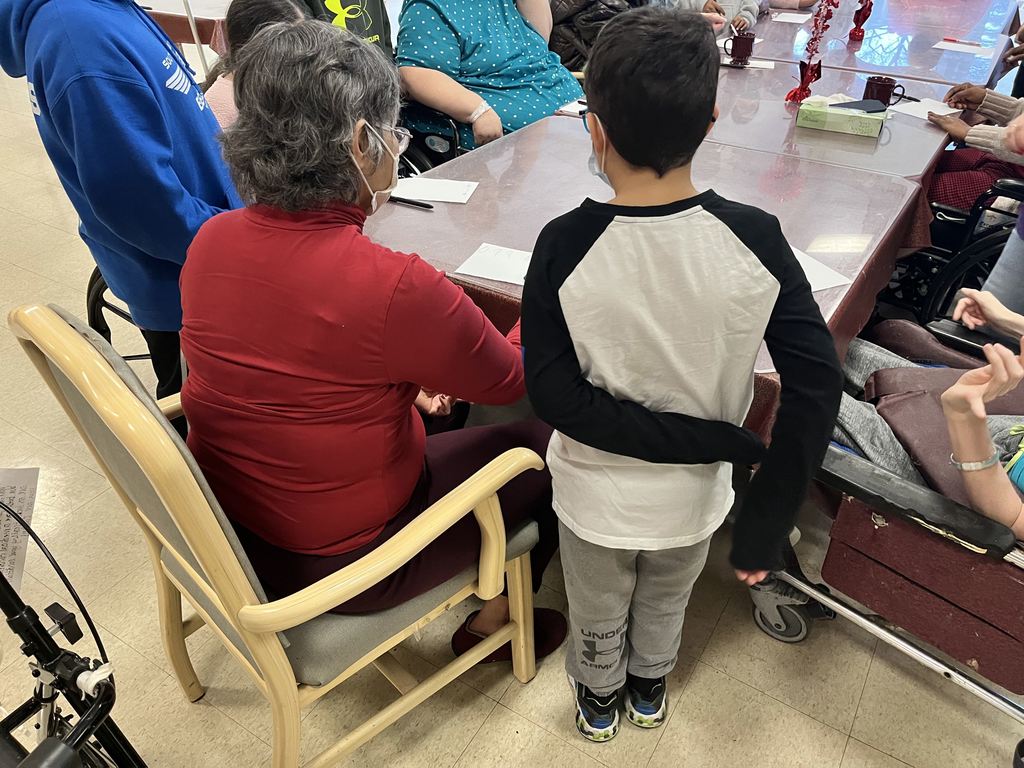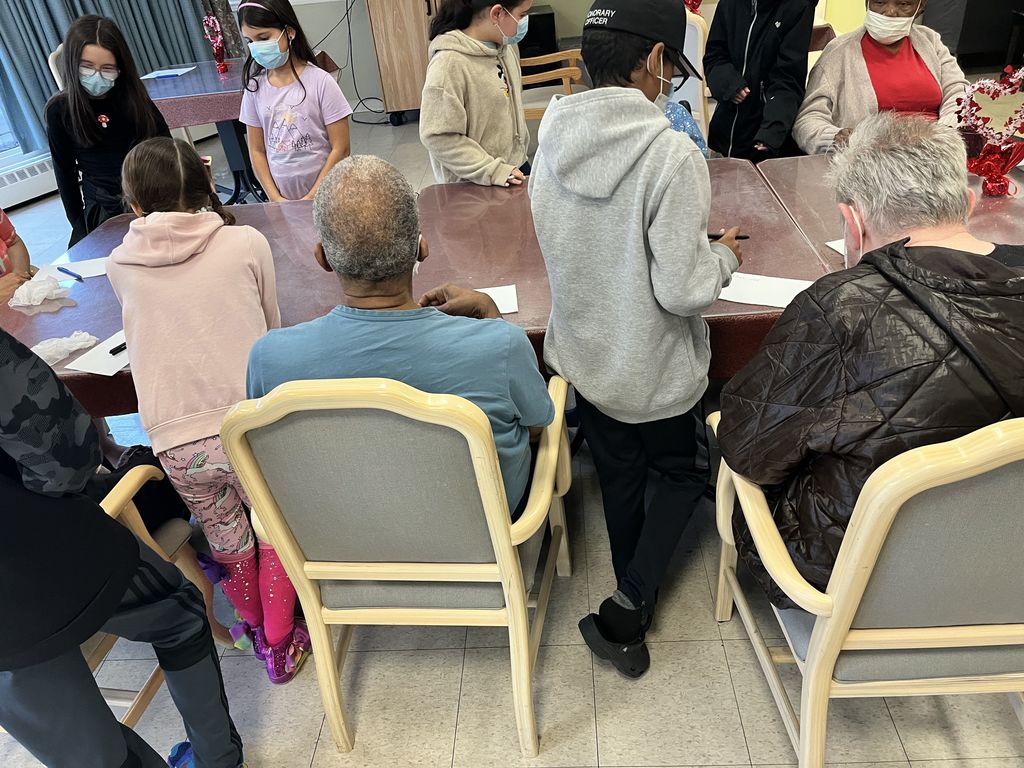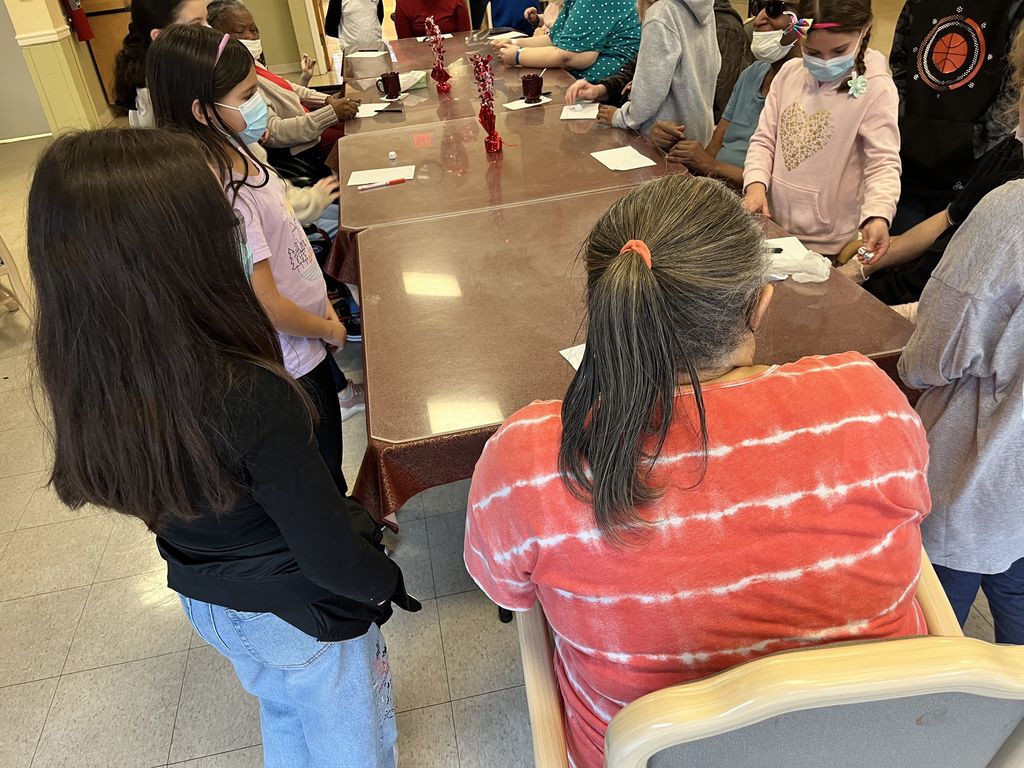 Happy National School Counseling Week! National School Counseling Week 2023 (#NSCW23) is Feb. 6-10, 2023, to focus public attention on the unique contribution of school counselors within U.S. school systems. National School Counseling Week, sponsored by ASCA, highlights the tremendous impact school counselors can have in helping students achieve school success and plan for a career. National School Counseling Week is always celebrated the first full week in February. We have prepared a short little visual to showcase the difference between a guidance counselor and a school counselor. For more information on school counseling, please visit the district website at
https://www.spboe.org/page/guidance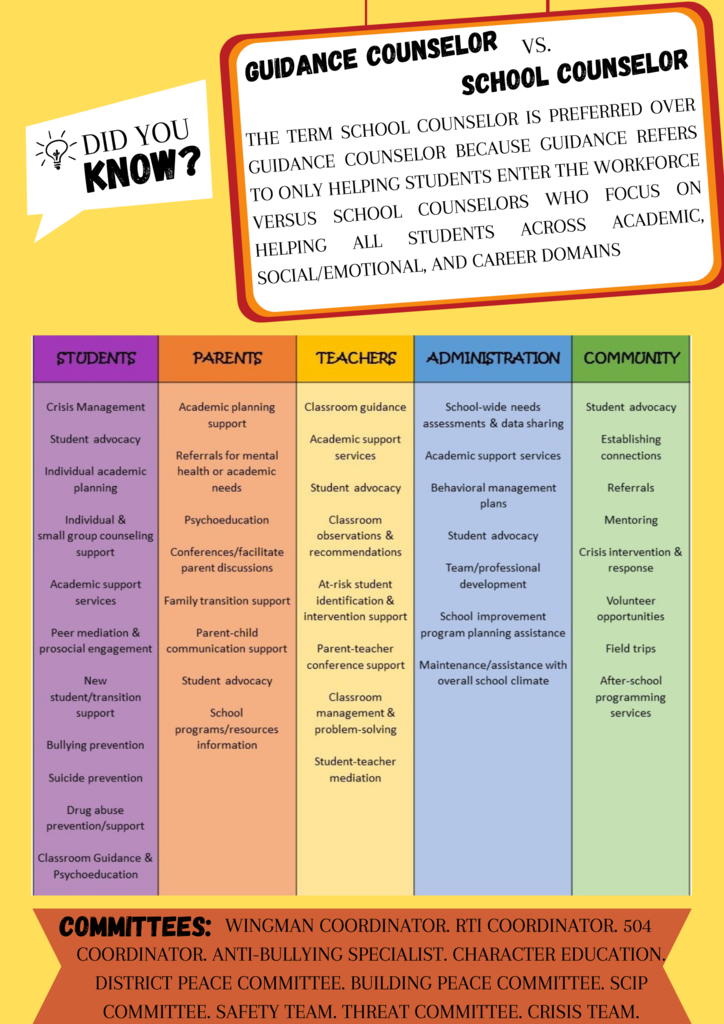 John E. Riley celebrated a wonderful career day today to learn more about career development. Our students got to participate in hands on experiences and asked amazing questions for our presenters. Thank you to our school counselor, Mrs. Hutchison, and principal Mrs. DuPiche for organizing the whole activity to reinforce our career development curriculum. Thank you to our amazing presenters: Tanya Watson Isabel Rosales Juana Sanchez Claudette Neysmith Lisette Rollins Gary Rollins Troy McNair & Tyree Cooper Digna Sosa Jennifer Grajko John Butrico Holly LaFerrera & The South Plainfield EMS Thalia Lopez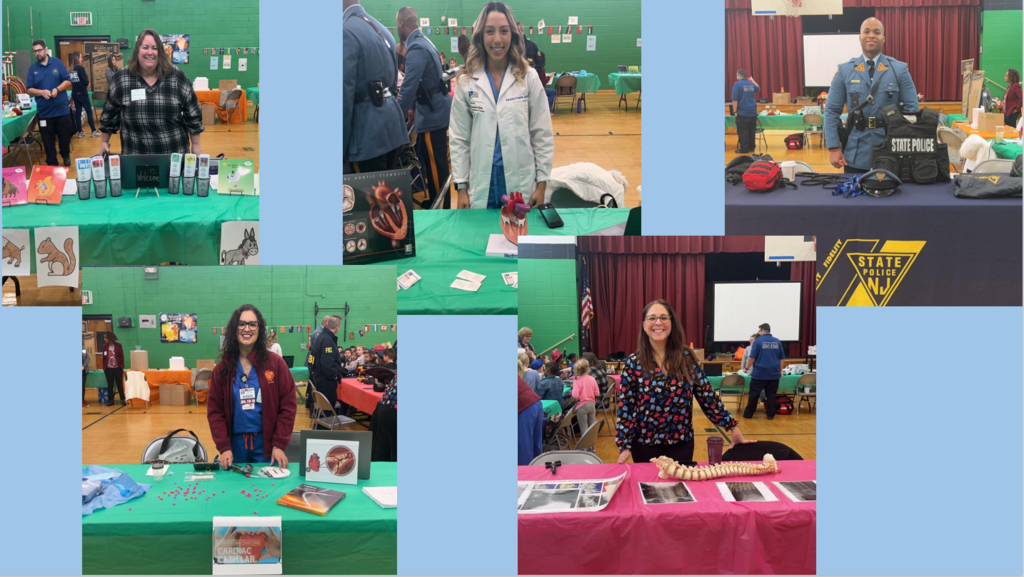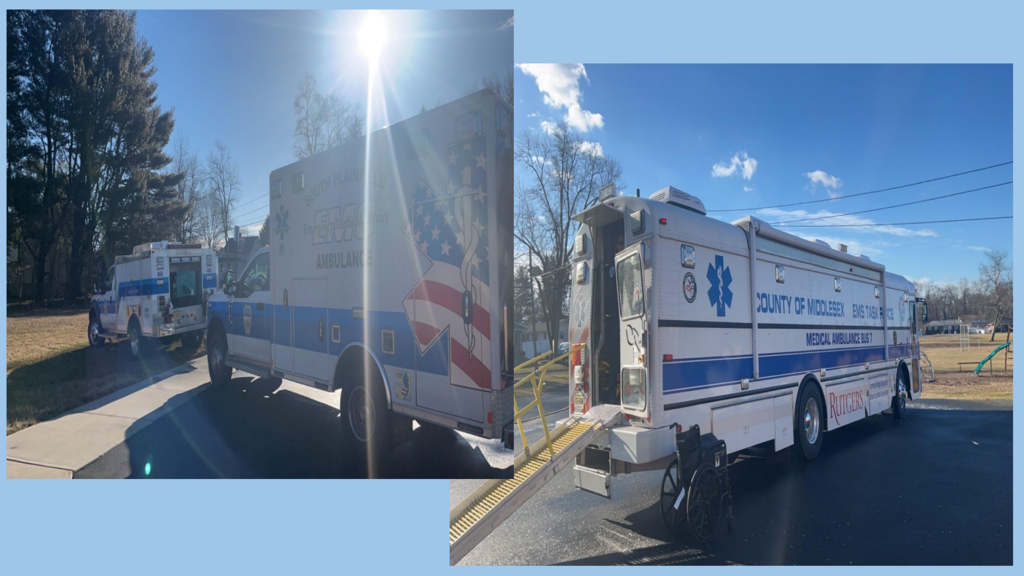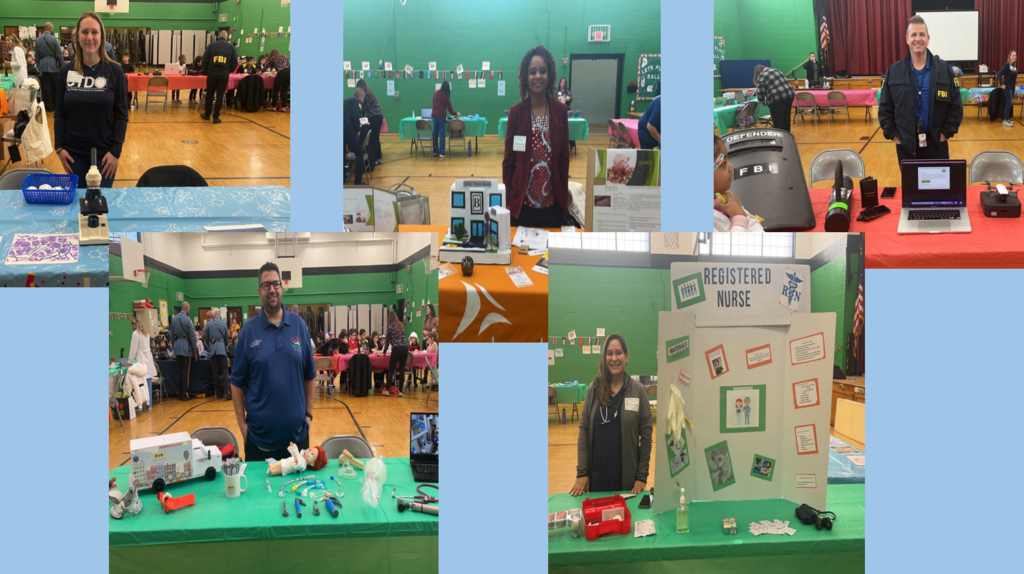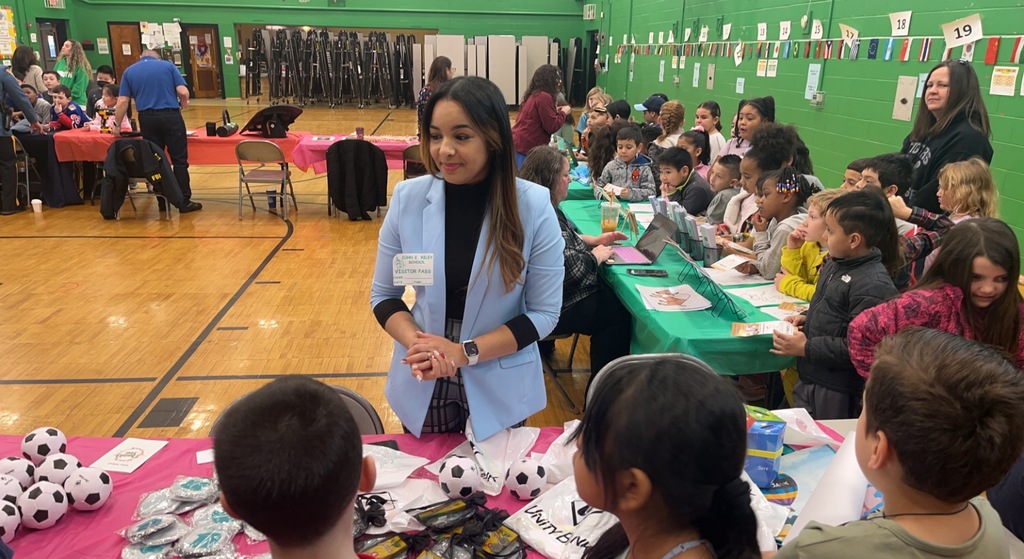 Here at John E. Riley we encourage our students to be great inside and outside of school. Our very own first grader, Shawn Imbimbo showed his talent this weekend. Shawn wrestled at the state qualifiers in Wanaque. He took home first place and is headed to Trenton for the state tournament. He is one of the top 27 in the state! We are so proud of you Shawn and good luck at States!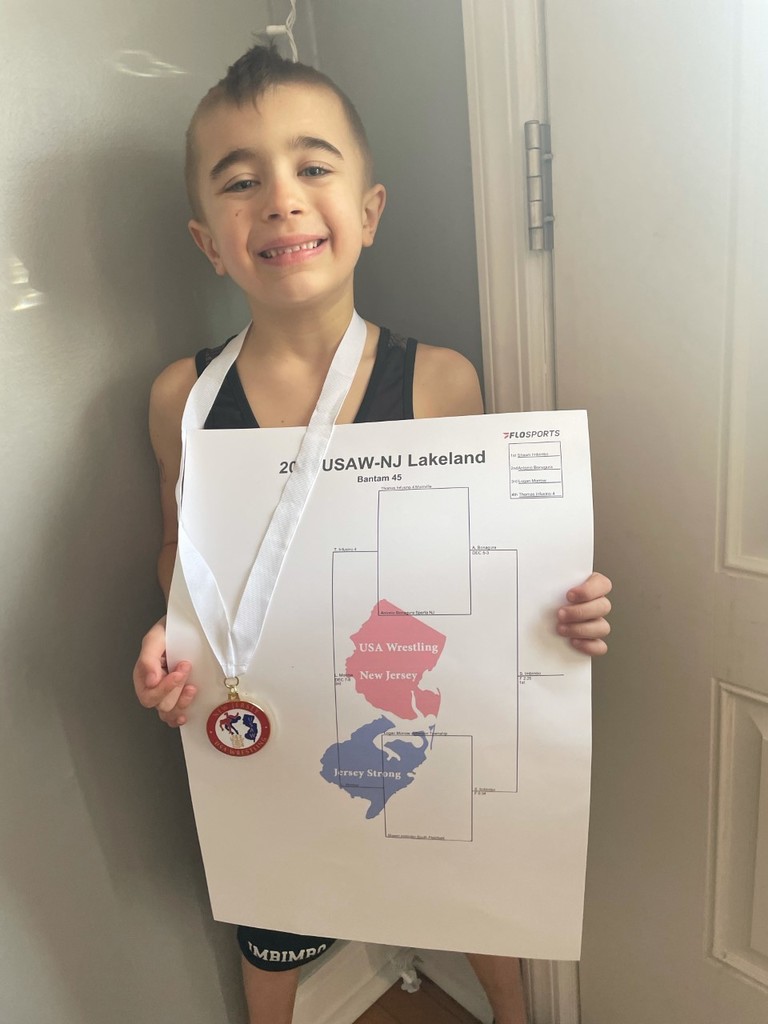 What a very special week our students created in honor of our School Counselor Mrs. Hutchison. These are just some of the amazing gestures of kindness that were done throughout the whole week. Mrs. Hutchison received an outpouring of love from her students and staff for all the hard work and support she provides for them. You should see all of the posters the students made in their classrooms! As we say - it is always a beautiful day at Riley School!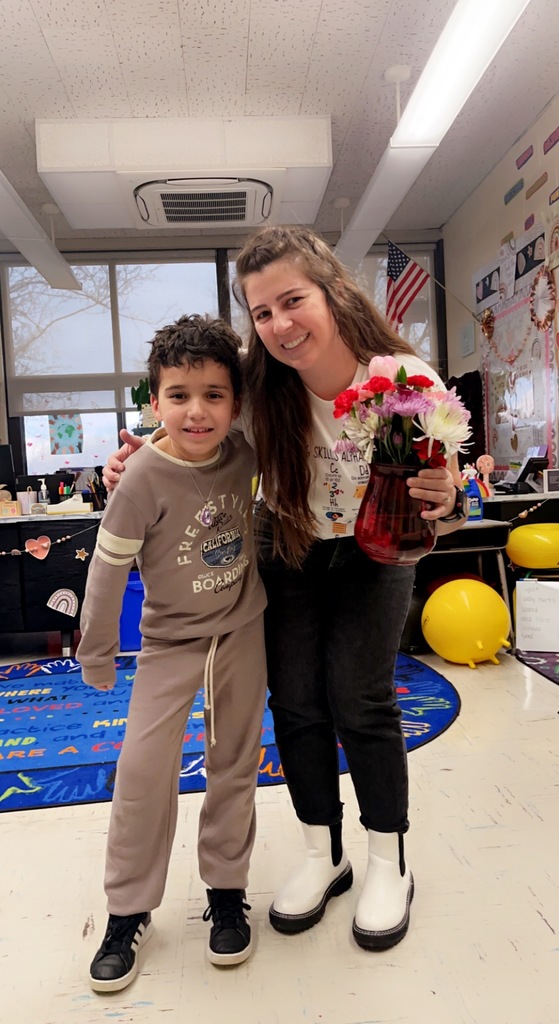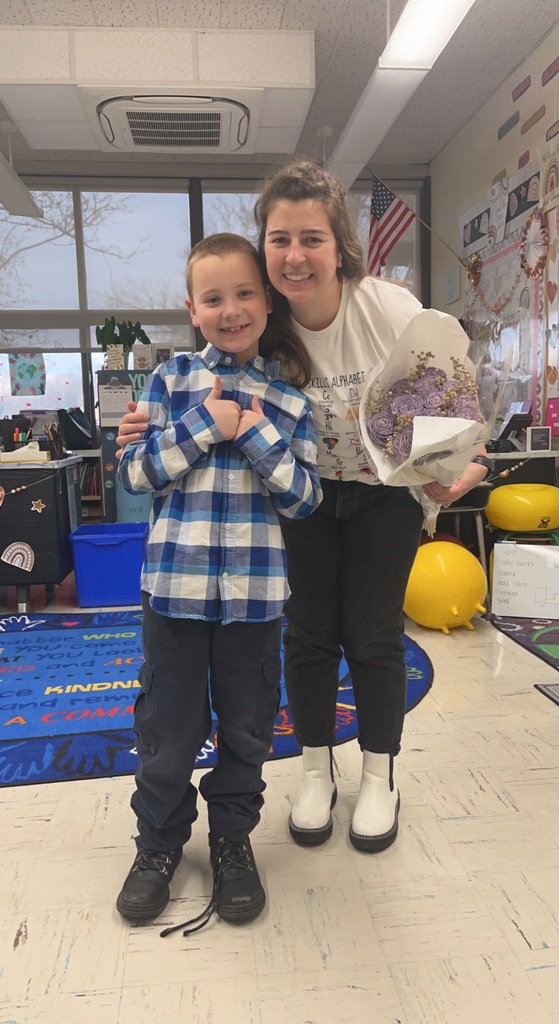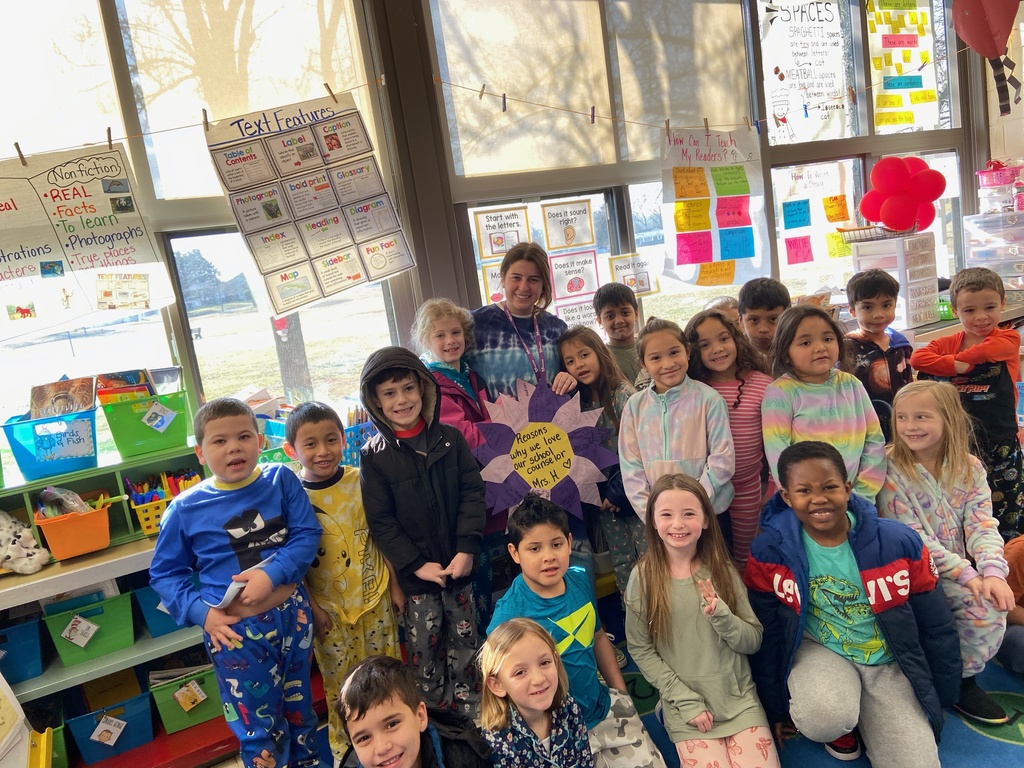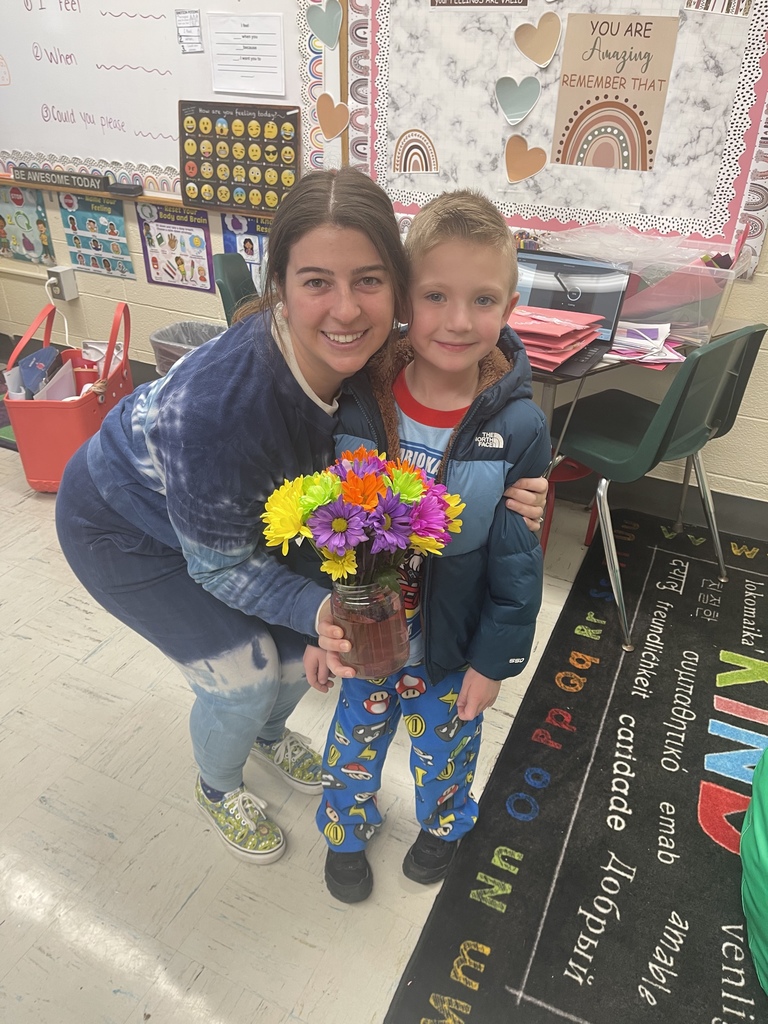 CONGRATULATIONS SHAWN IMBIMBO!!!! Congratulations to our very own 1st Grader, SHAWN IMBIMBO! Shawn took First Place at the NJ State Qualifiers in Wanaque. Shawn is headed to Trenton for the State Tournament. He is one of the top 27 in the state!!! WE ARE SO PROUD OF YOU SHAWN!!😊
Riley School Wingman Leaders have been working with all of our students in grades pre-k to 4th grade and teaching them about teamwork and sharing. We have been doing an activity called the Handshake Mingle. Students were encouraged to interact with new friends to practice safe handshakes and ways to greet a new friend!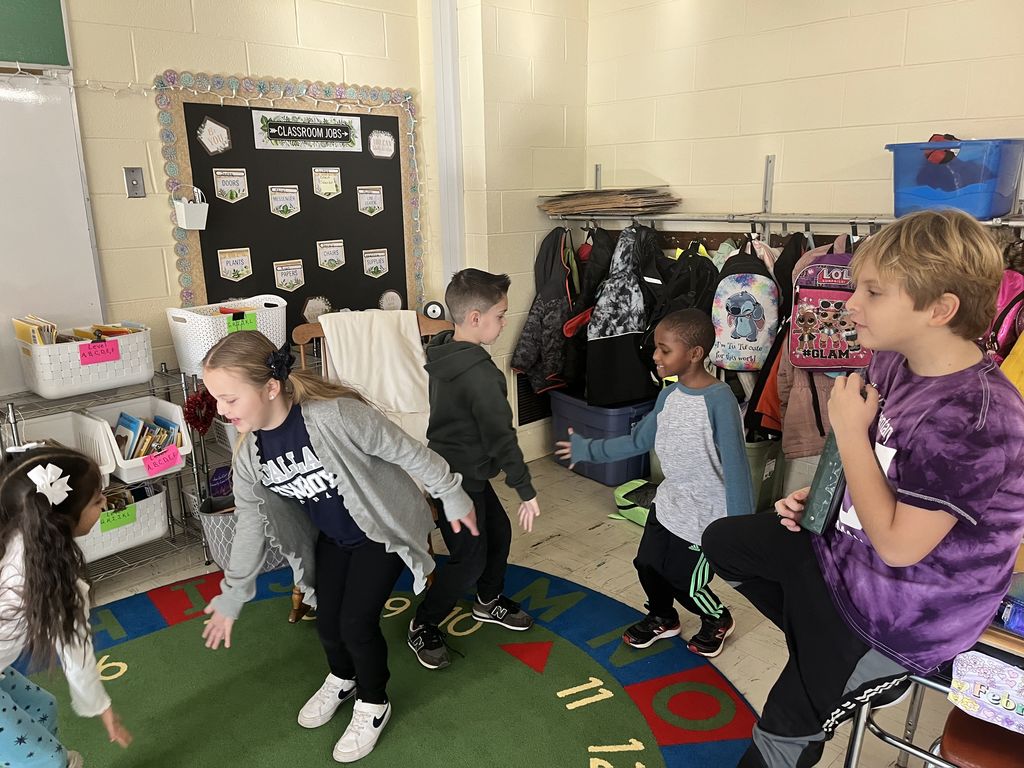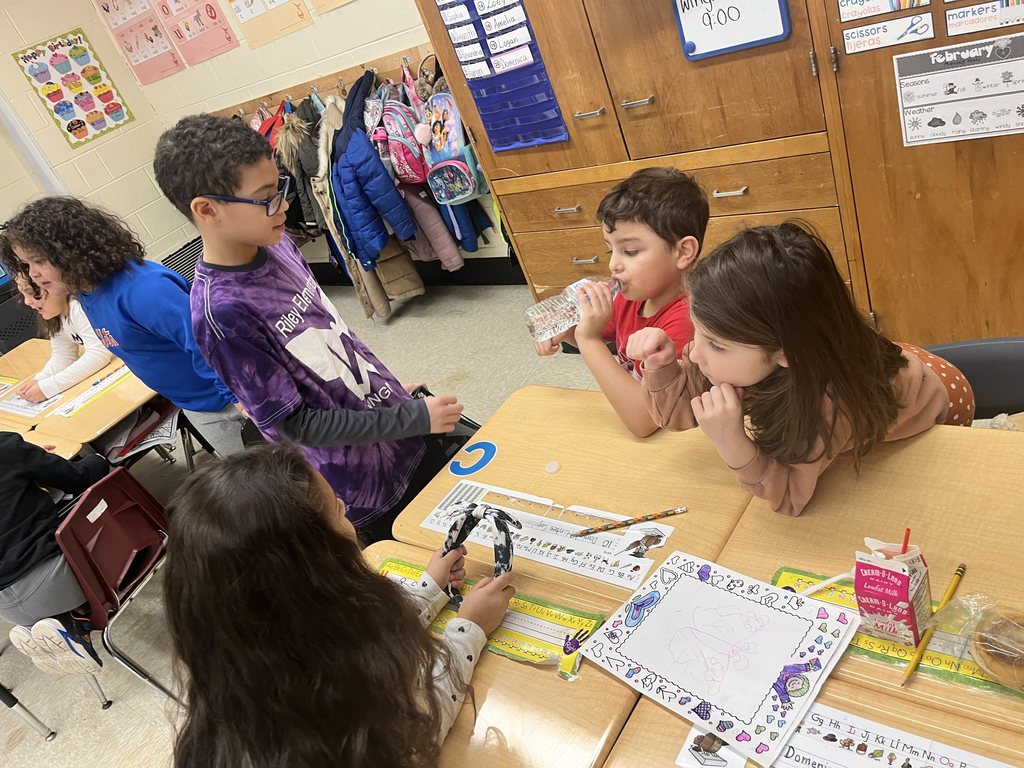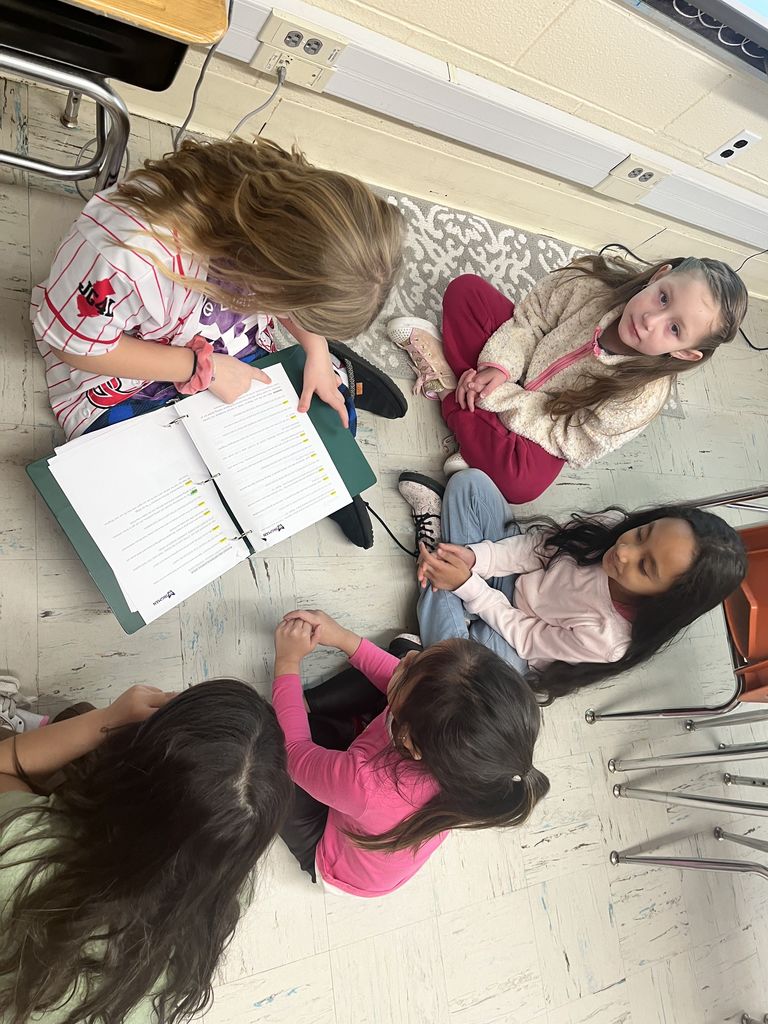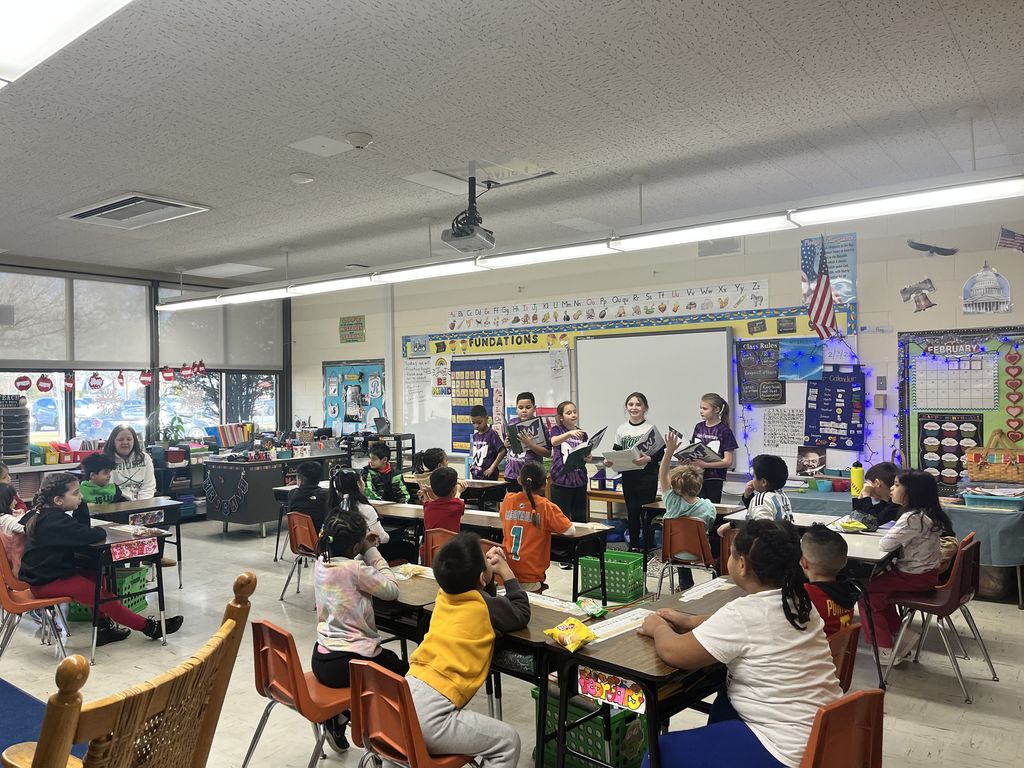 Happy Groundhog Day 2023!!!!
John E. Riley celebrated the end of The Great Kindness Challenge with an amazing assembly called the Prismatic Laser Light Anti-Bullying Show! Our students learned different sign language symbols that represented trust, respect, inspiration, help and doing the right thing. We practiced how to say no to bullying and what to do if we needed help in a bullying situation. Our students had a great time singing and dancing along with this fun educational assembly.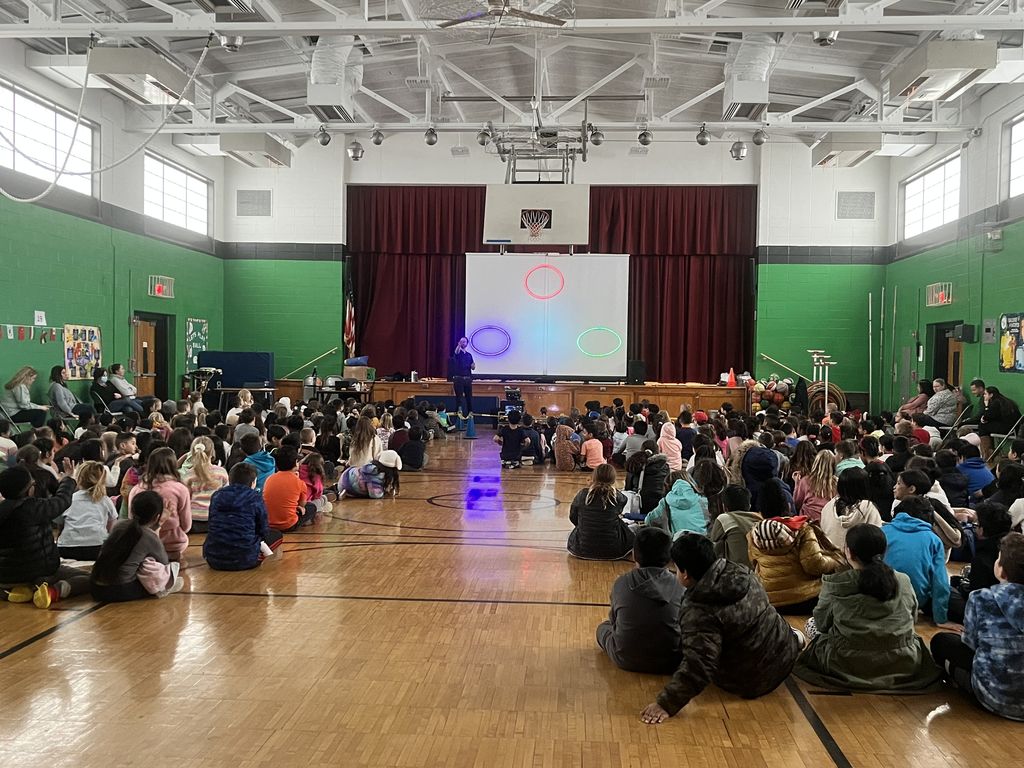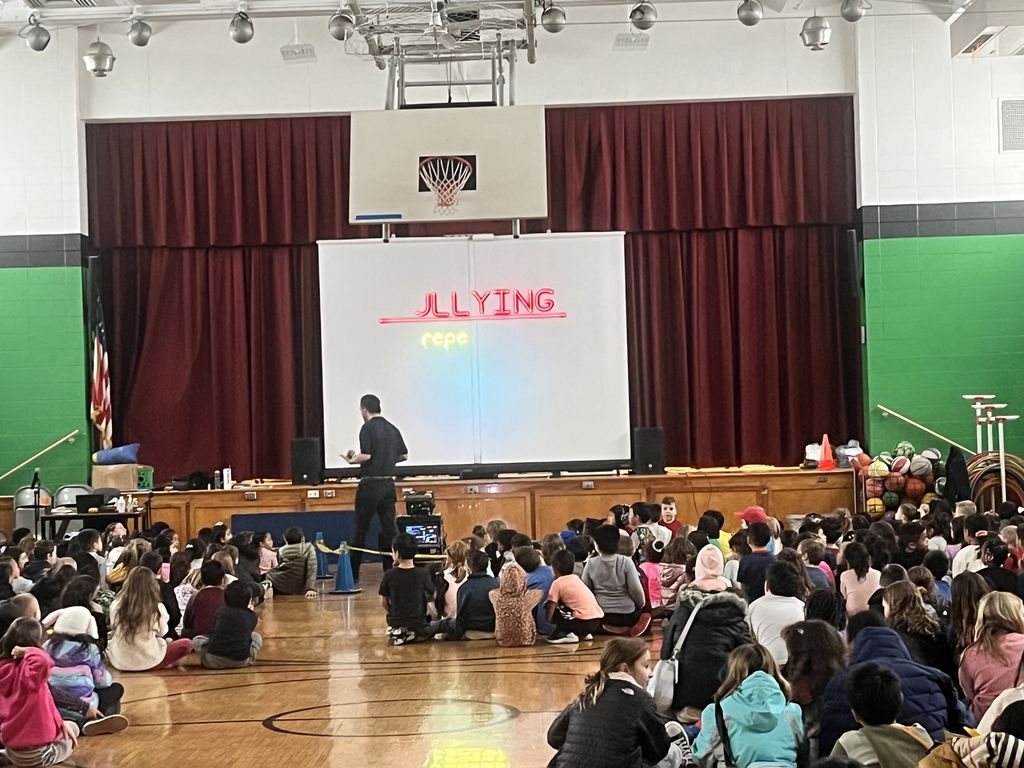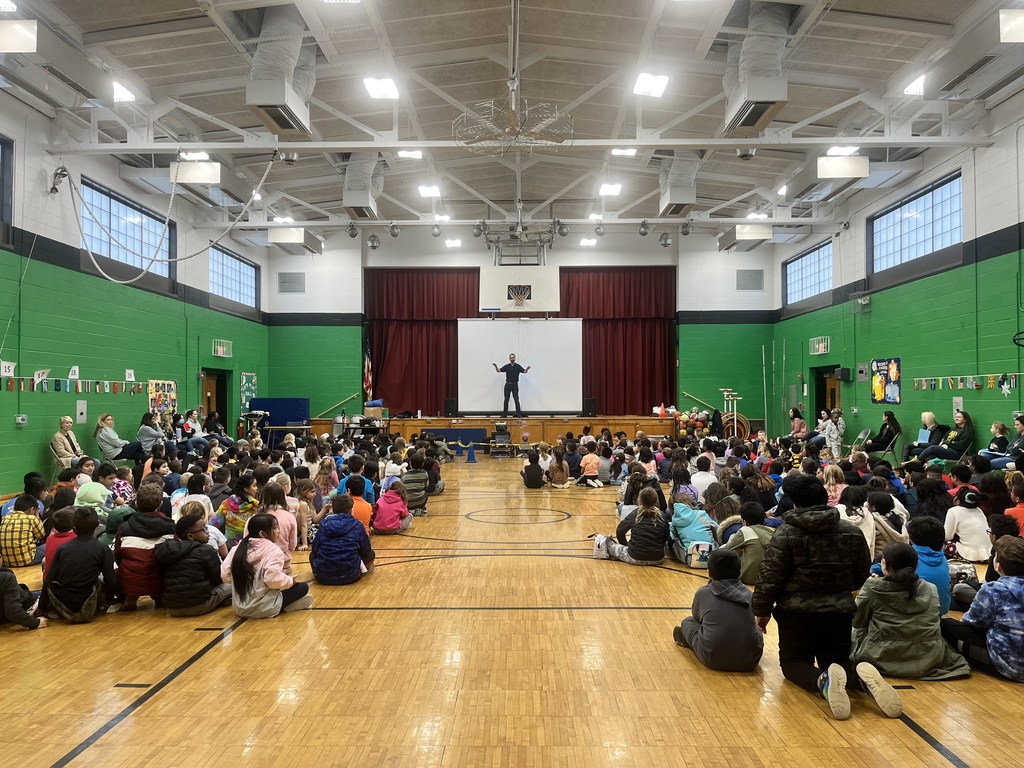 Ms. Zultowski's 2nd grade class participated in The Great Kindness Challenge Book Swap! Students brought in books to swap with classmates, and each classmate got to take a new book home to enjoy. We are so excited to promote reading, kindness and generosity at Riley School.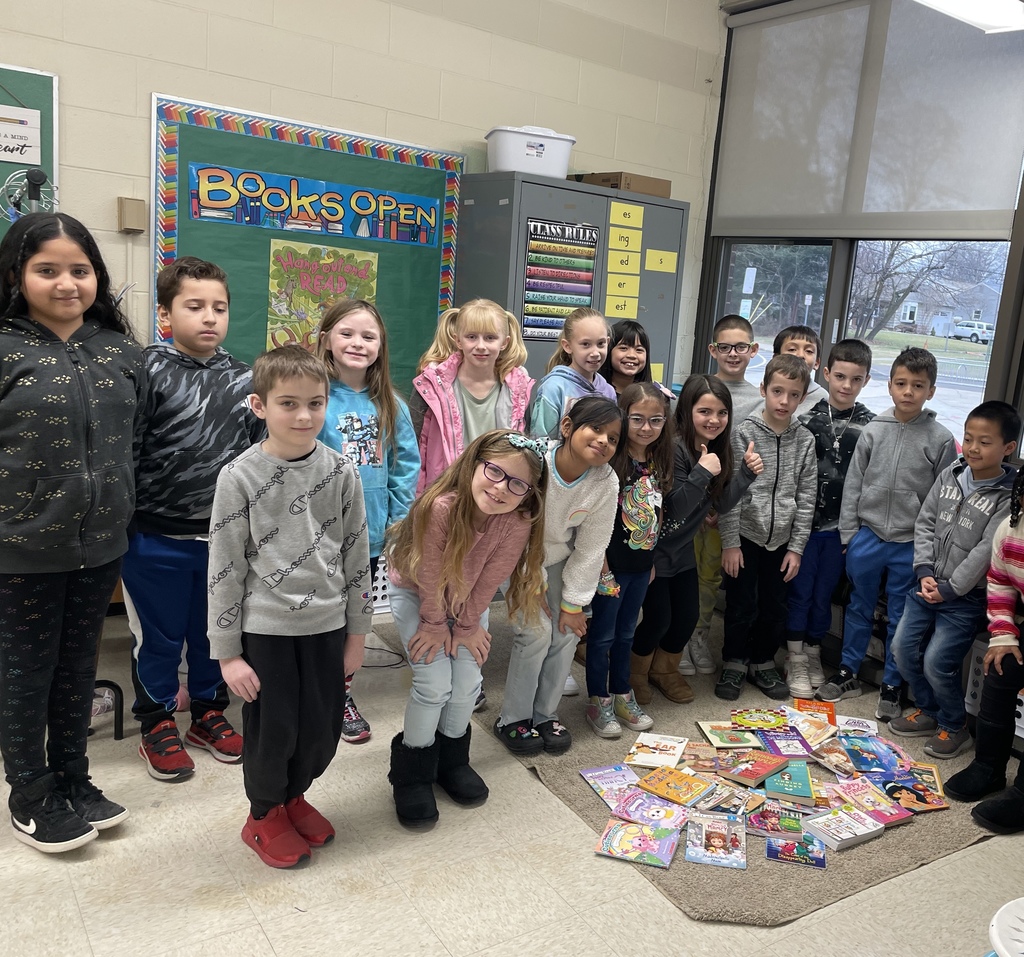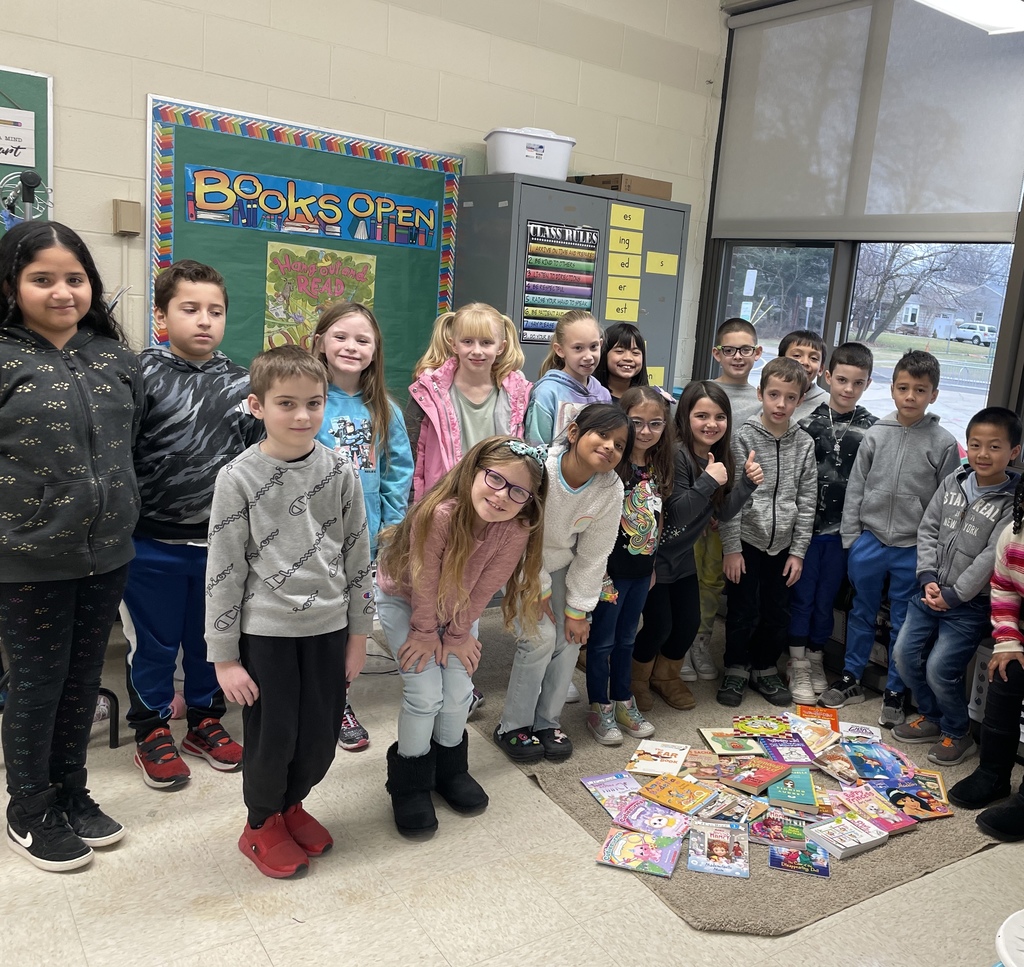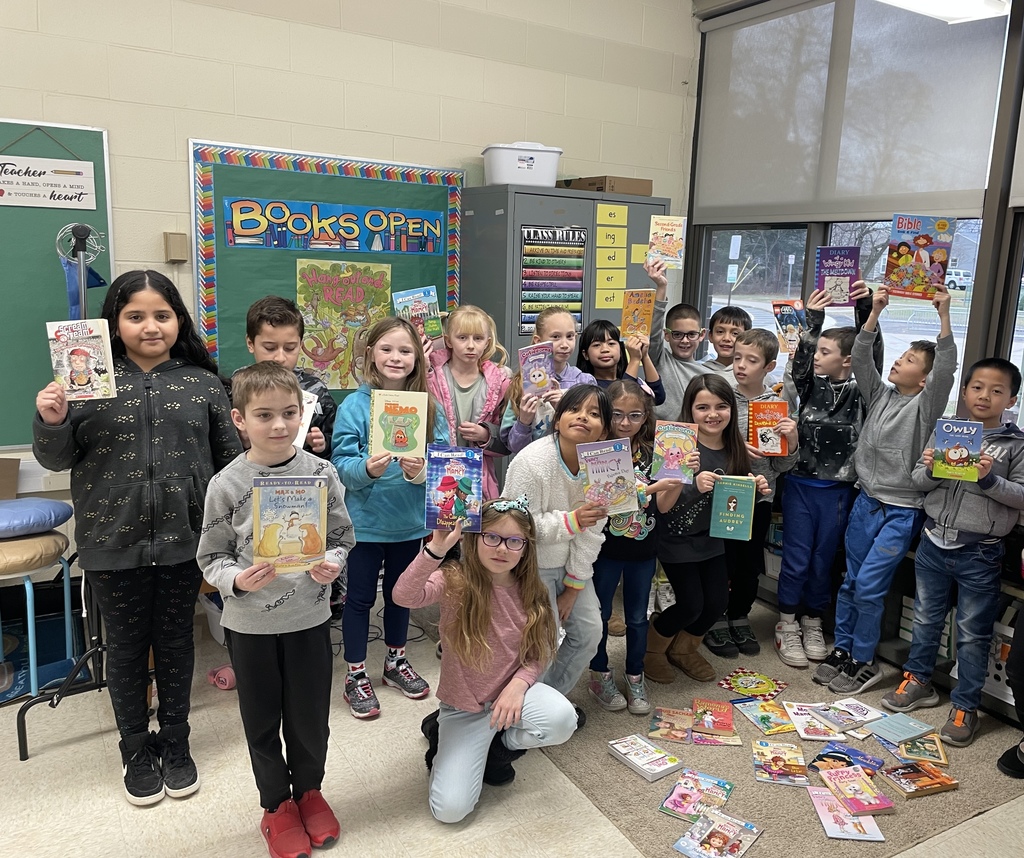 The Great Kindness Challenge is underway! Our community has been getting involved in donating items for our book swap and to beautify our school. A special thank you to Mr. Dan Rinaldi from CKA in South Plainfield for the generous donations of books for our book swap. We appreciate our community and all they do to make JER a special place!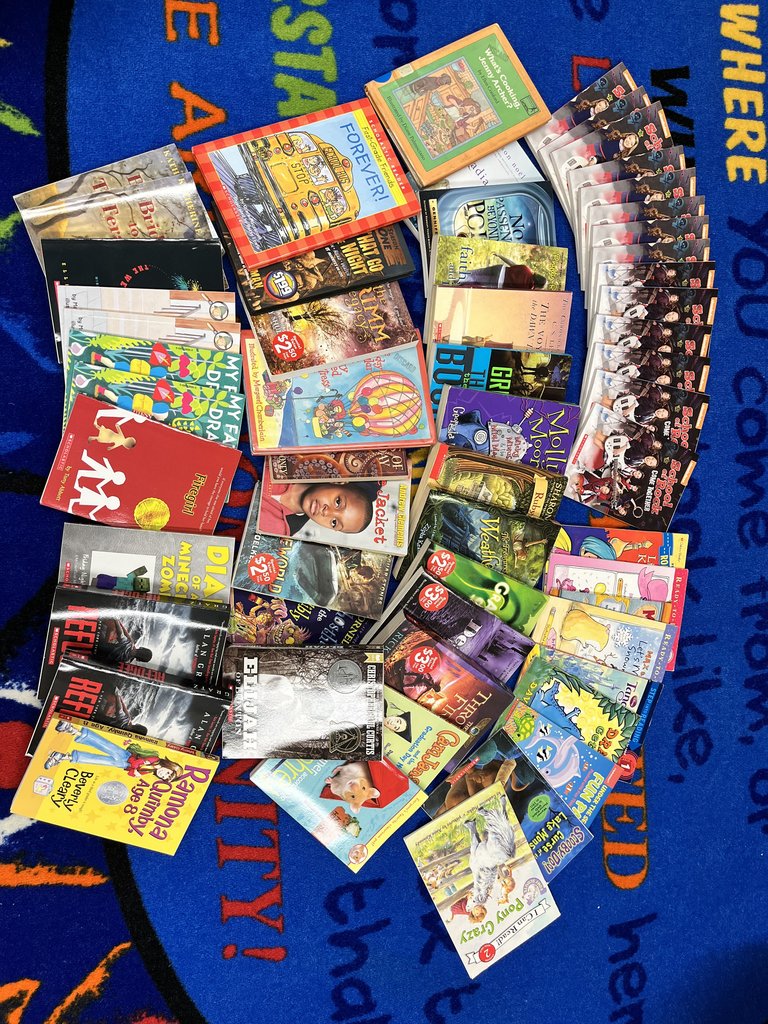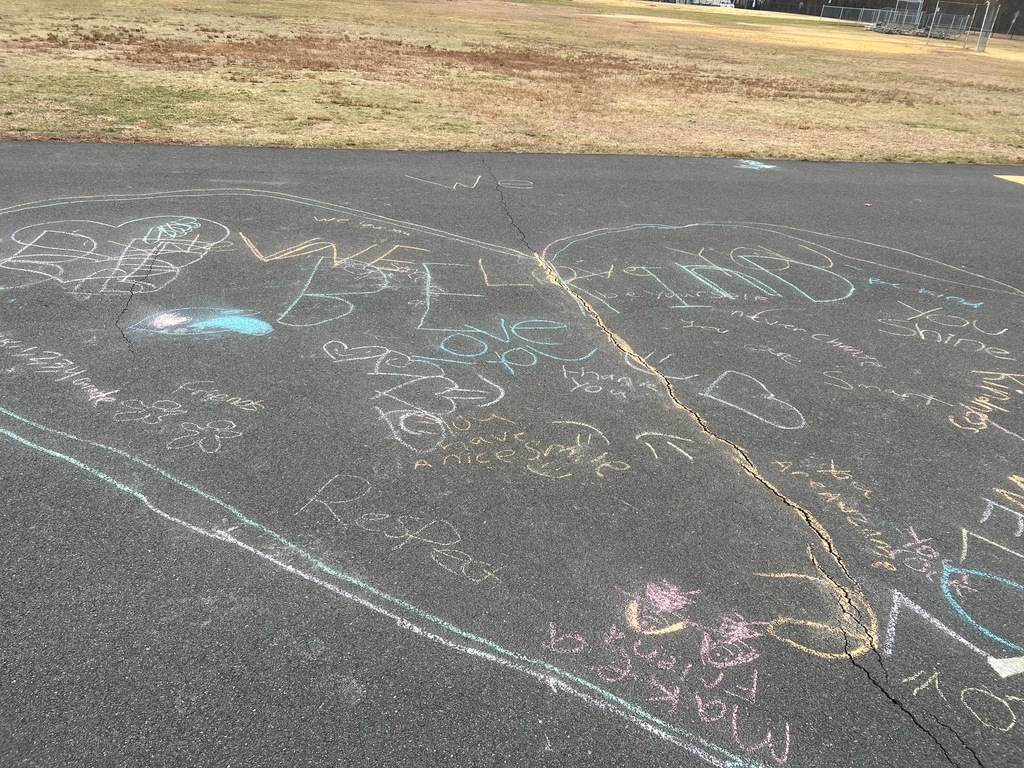 This week at Riley School is The Great Kindness Challenge! The Great Kindness Challenge is a positive and uplifting program that creates a culture of kindness in schools, communities and the world. Using a kindness checklist, students and families are challenged to complete as many acts of kindness as possible. At Riley School, we have been participating in a spirit week, a book swap, secret kindness challenges, and much more! We are so proud of our students and the way they have stepped up to show kindness.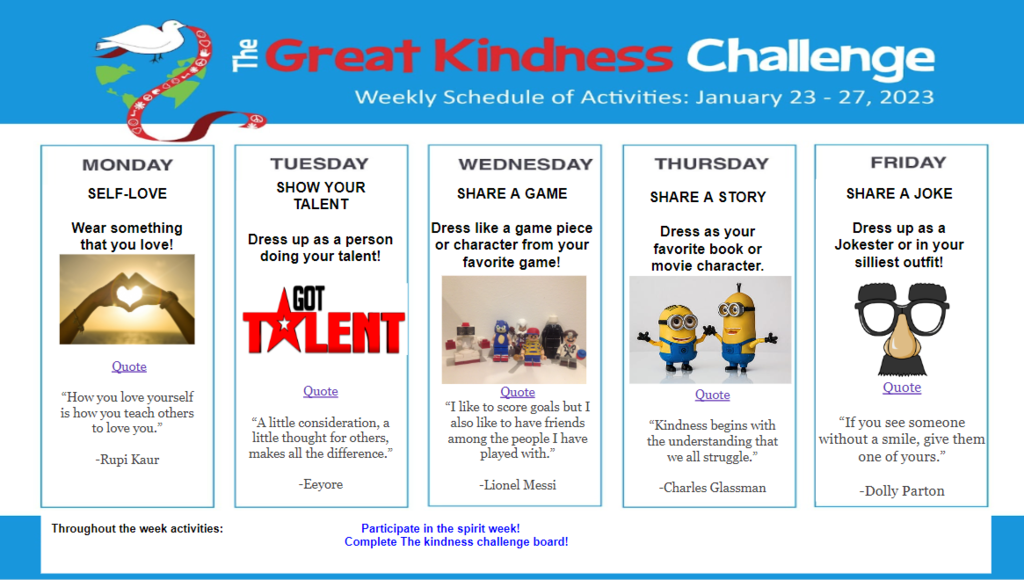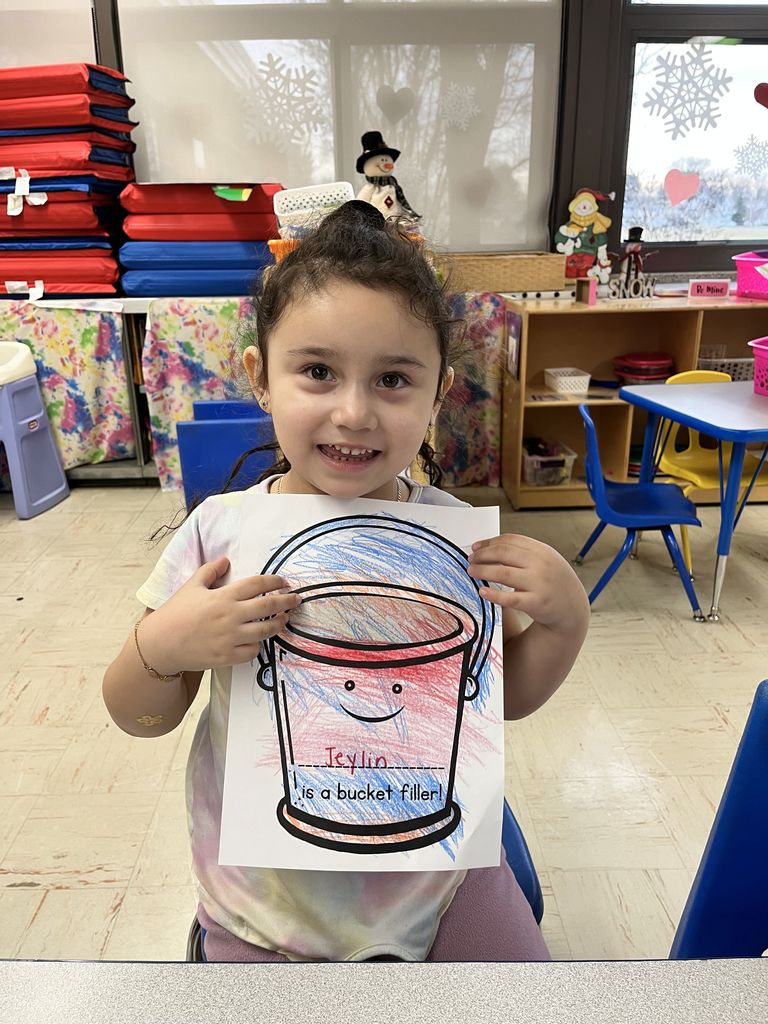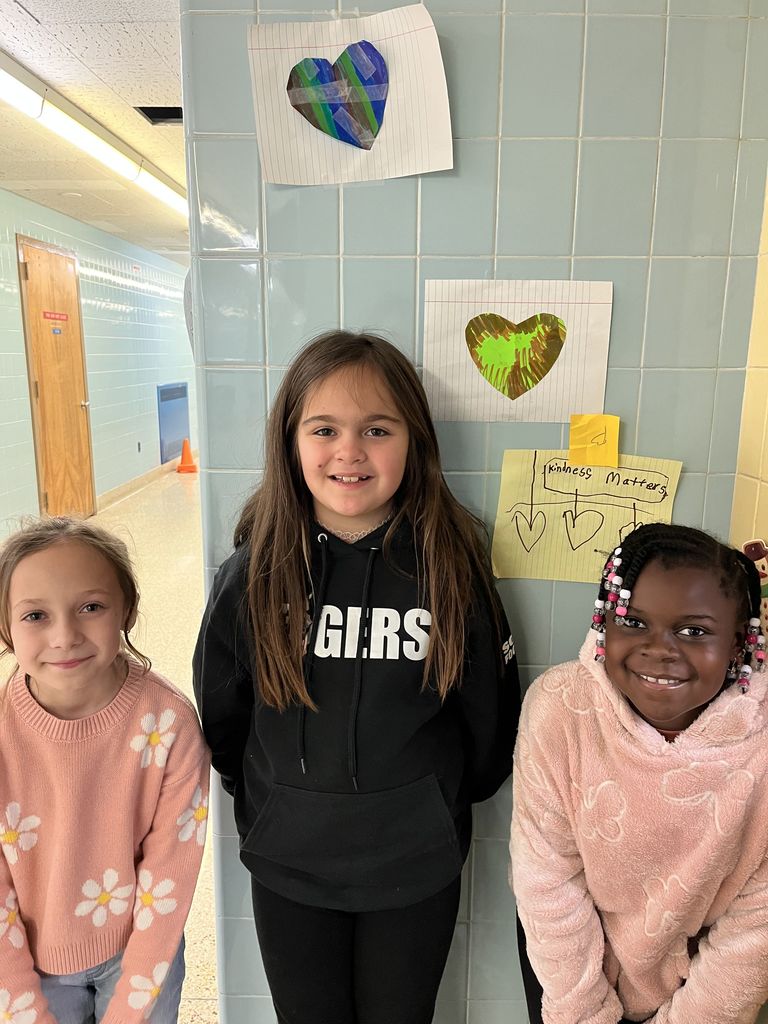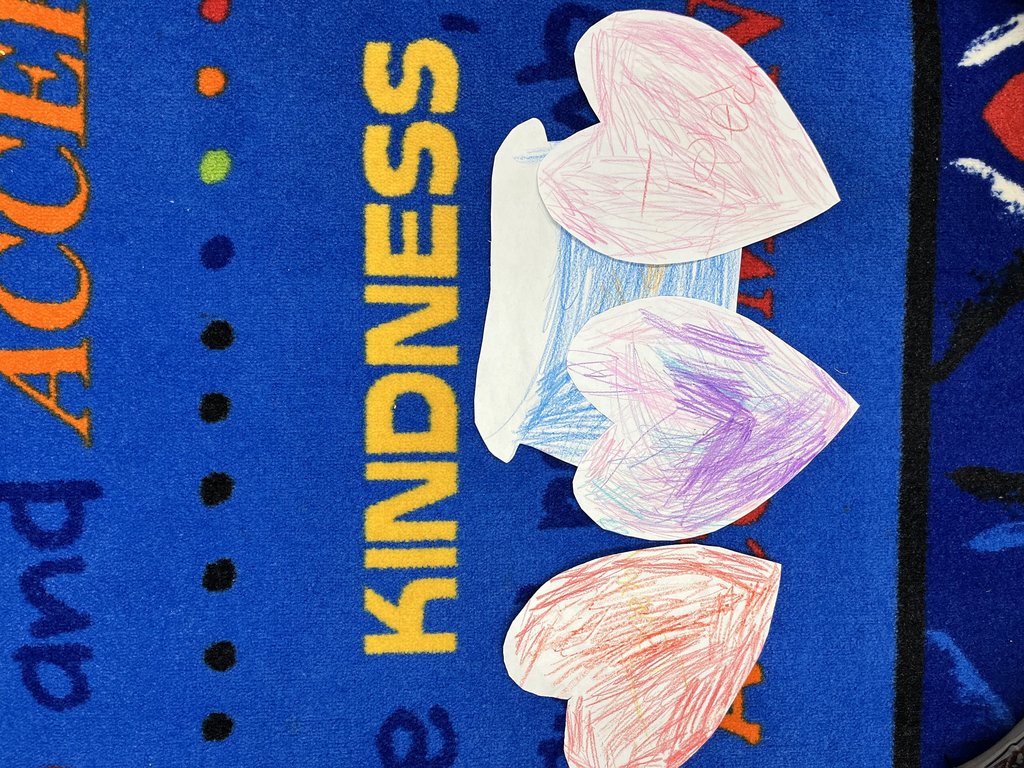 This week during The Great Kindness Challenge our students at Riley School have been learning all about kindness, and how it impacts those around us. Ms. Renna's pre-school class learned all about bucket filling, and have been doing kind acts to fill their buckets!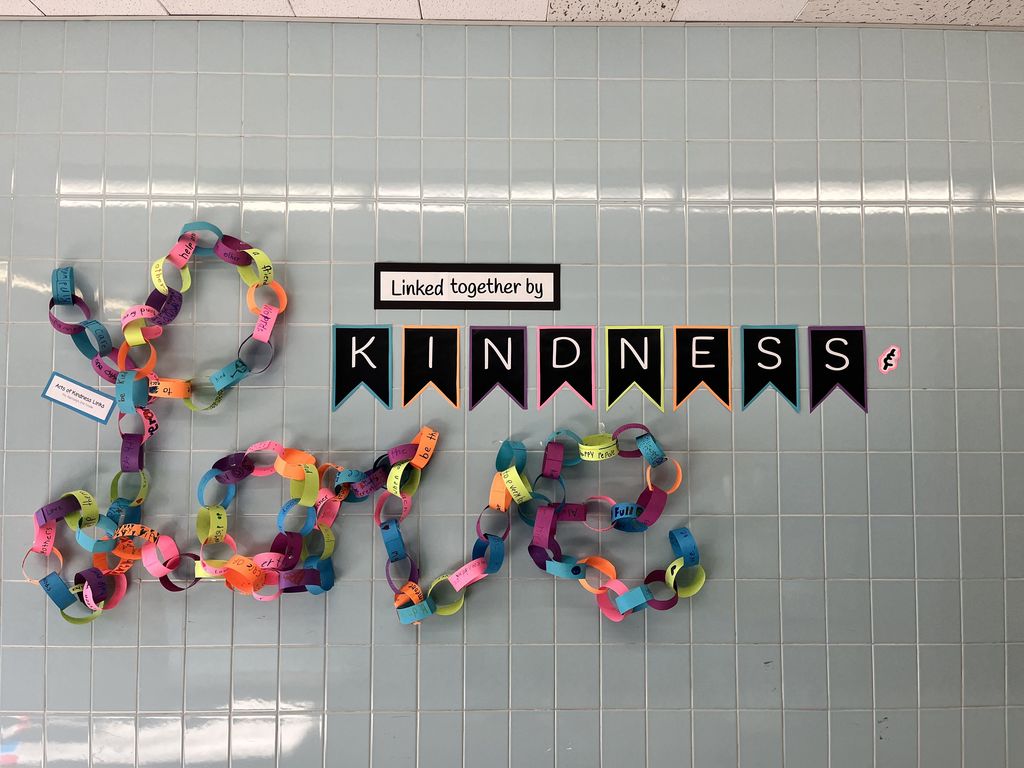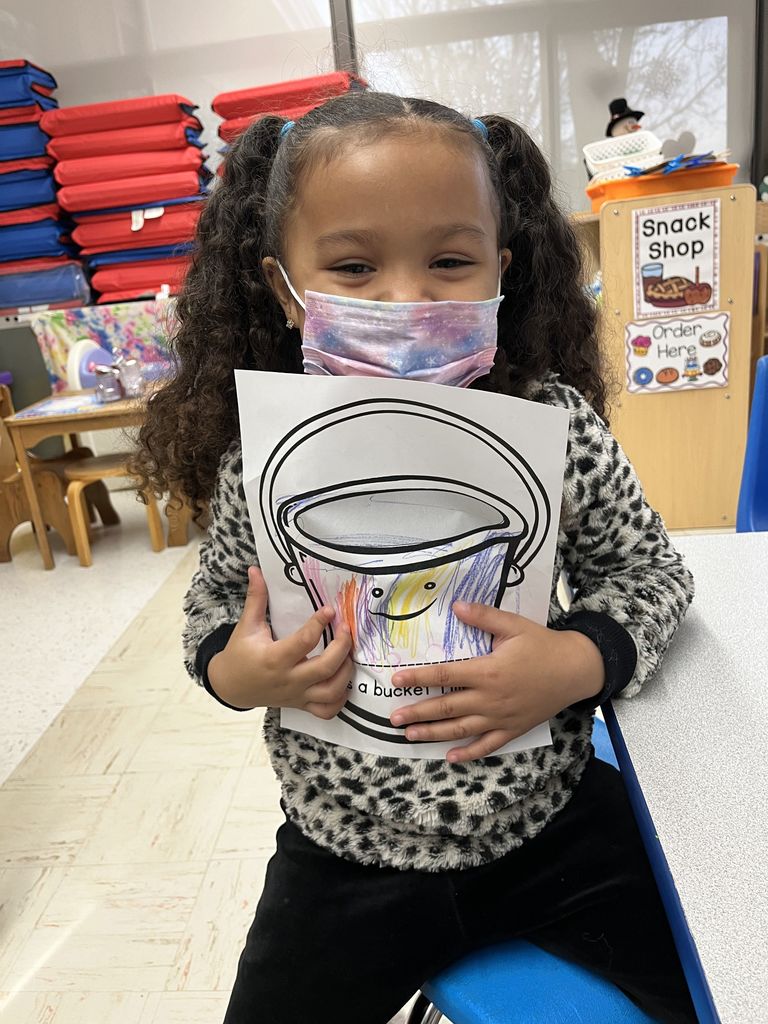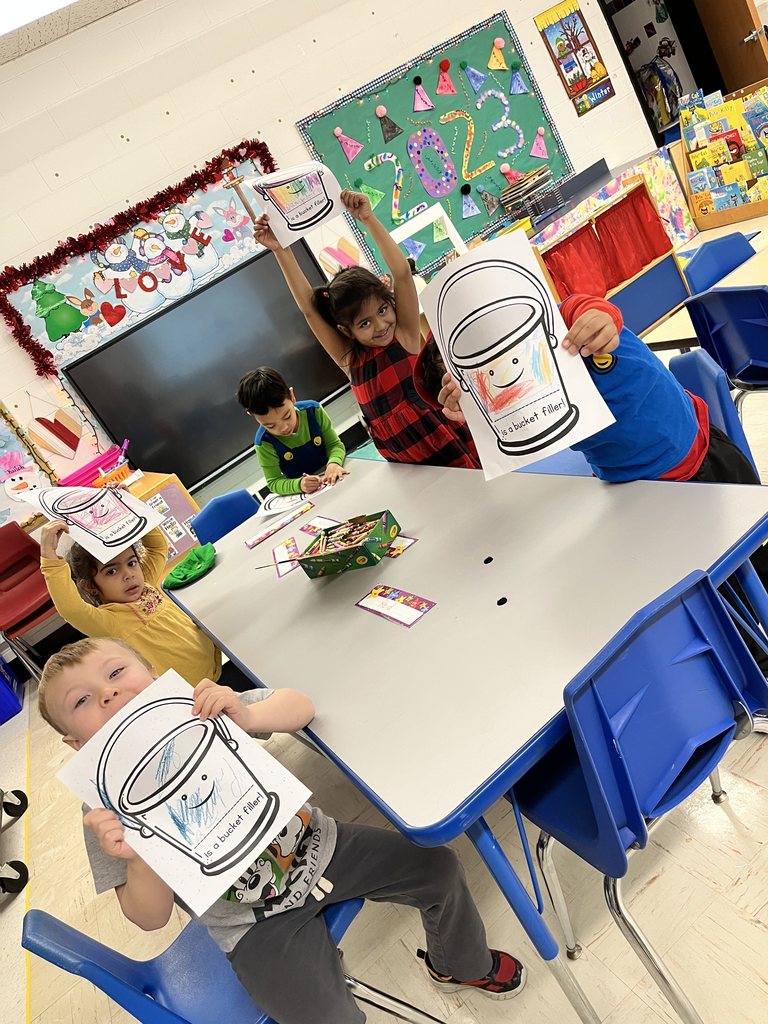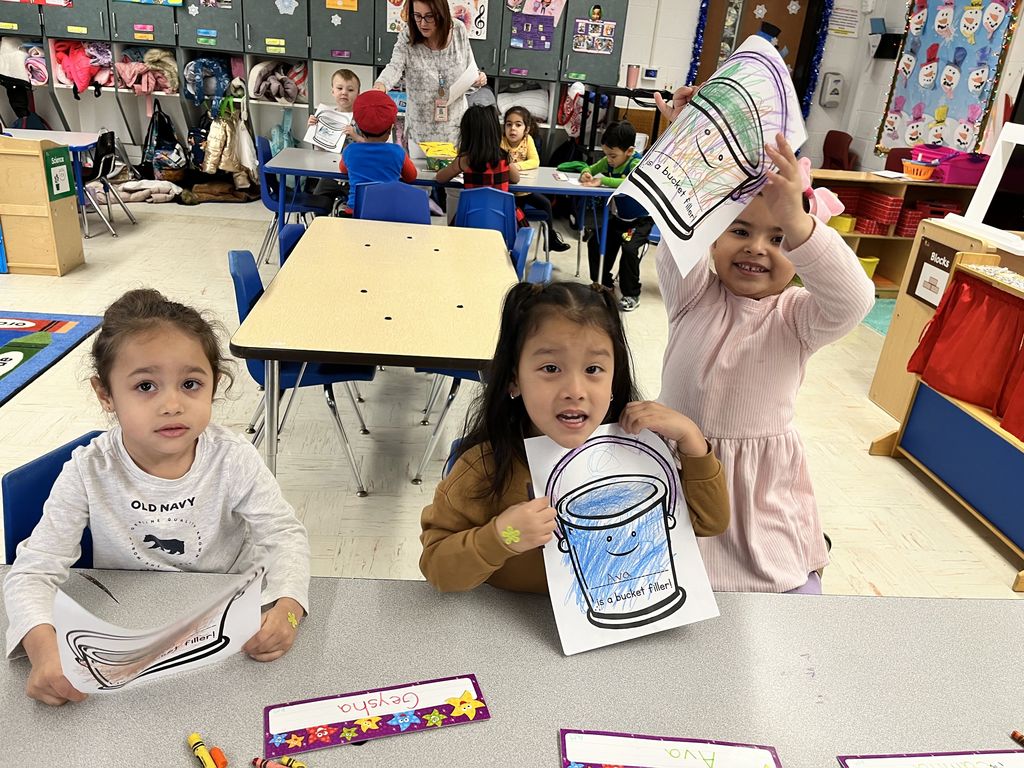 Congratulations to our January Students of the Month! John E. Riley students are selected monthly by their teachers for student of the month. A student of the month is selected based on the character traits they are displaying inside and outside of the classroom. The month of January was all about Kindness, and our students of the month spent the entire month demonstrating why they are Kindness representatives. Great job to our students of the month! Camille Budhan Lacey Fego Mason Mejia Alani Tinsley Rooney Hunter Brad Munroe Anaya Bal Lincoln Fyffe Ryan Wilkinson Yasmin Ruiz-Marroquin Chase Mingo Elina Chen Myles Gnoza Malia Wright Alivia Cerami Abigail Luo Jamar Baker Daniela Garrido Amelia Ulacia Christian Marsh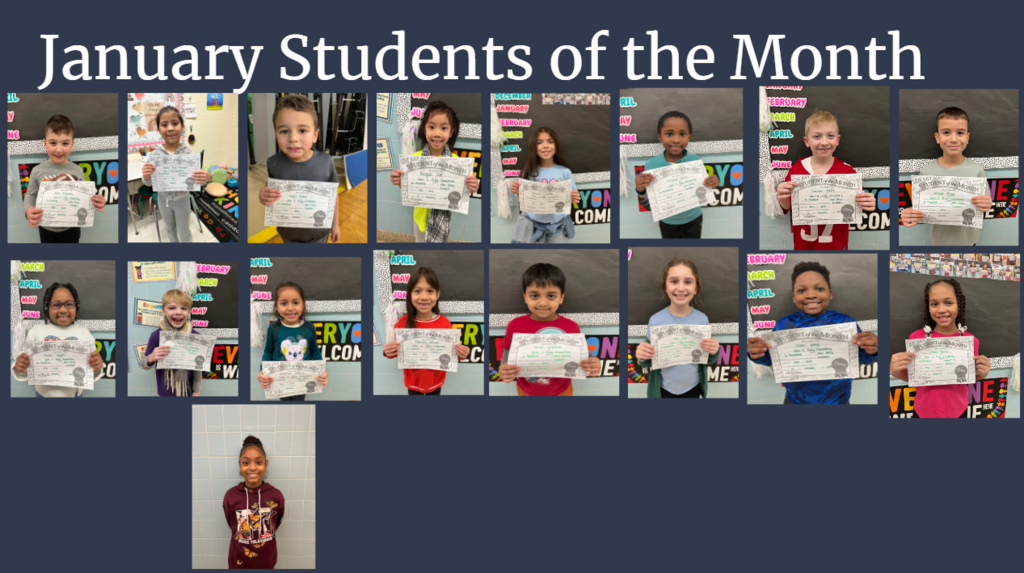 Good afternoon Riley Families! Happy New Year! Please see the revised January 2023 Calendar below. A hard copy will be sent home today, Wednesday, January 4, 2023. Thank you. Mrs. DuPiche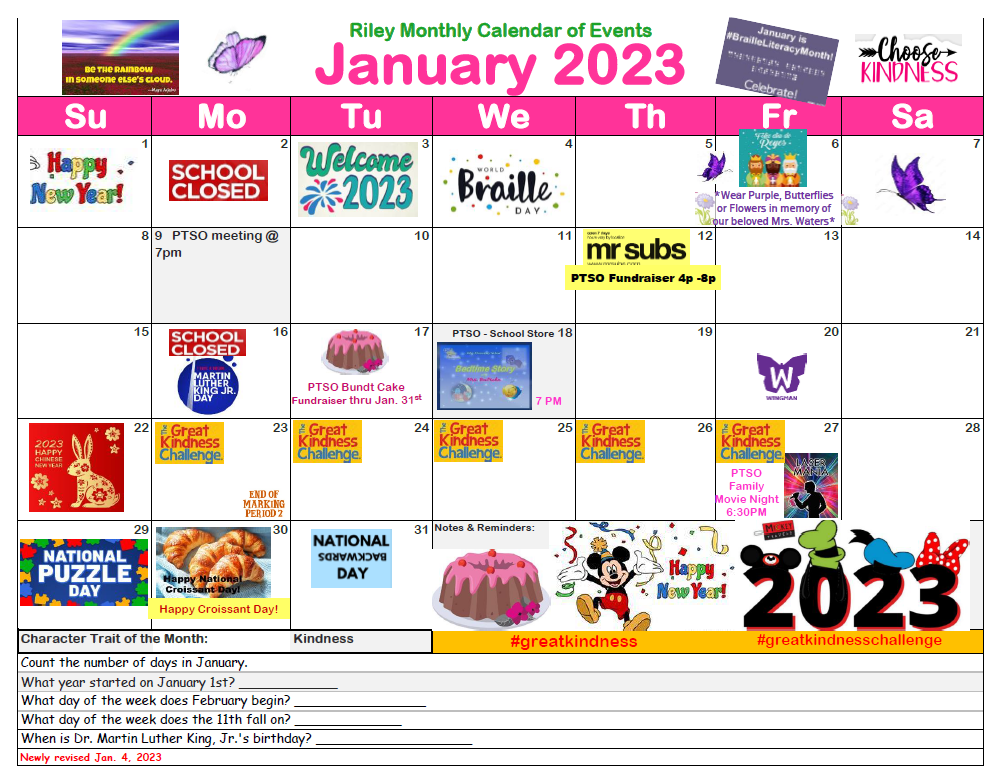 EARLY DISMISSAL REMINDER: TOMORROW, FRIDAY, DECEMBER 23RD IS AN EARLY DISMISSAL. - PRE-K AM WILL BE DISMISSED AT 10:30 AM. - PRE-K PM - 4TH GRADE WILL BE DISMISSED AT 1PM. PLEASE BE PROMPT AND PREPARE FOR RAINY WEATHER. THANK YOU EVERYONE FOR YOUR CONTINUOUS SUPPORT, PATIENCE AND DAILY INVOLVEMENT! HAPPY HOLIDAYS!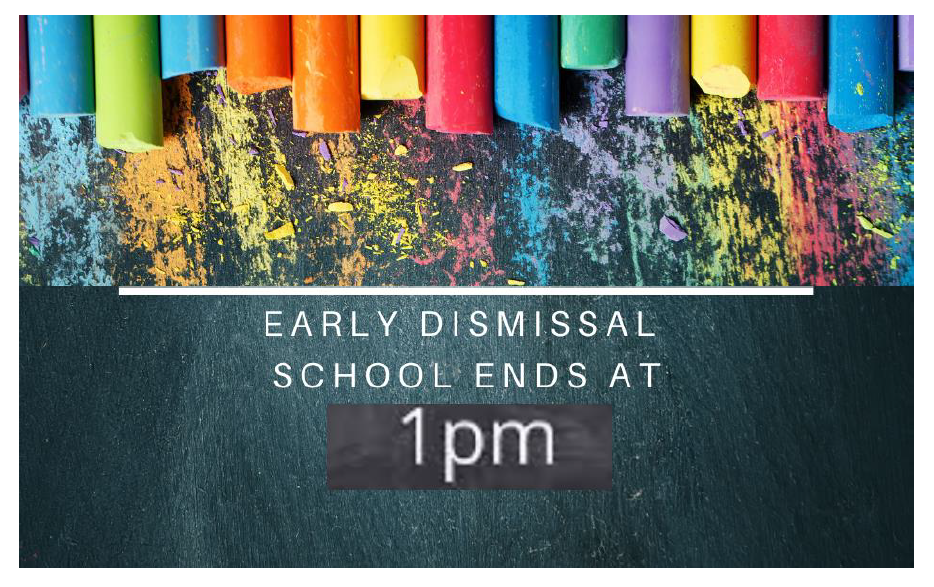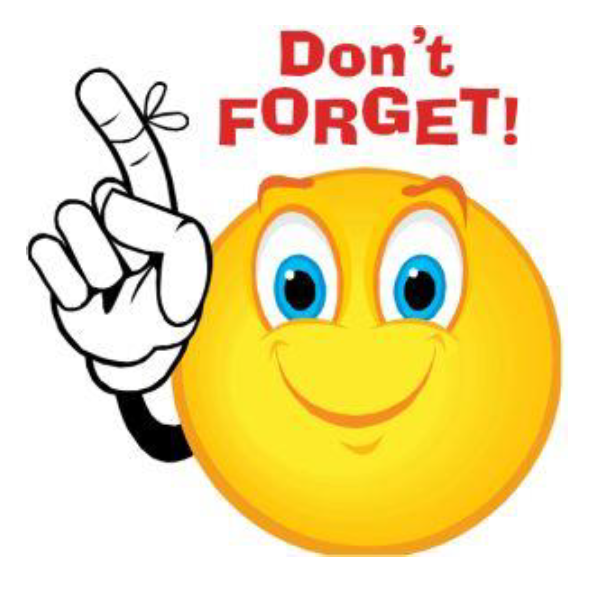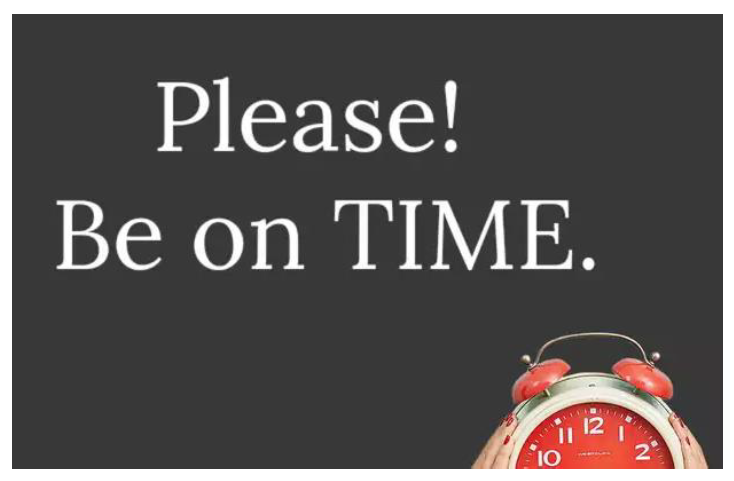 Good evening Riley Family, This Friday the PTSO is sponsoring the Winter Holiday Festival. Any parents who would like to volunteer to help out please sign up by clicking on the link below. We thank you in advance for your continued support and participation!
https://www.signupgenius.com/go/5080545A4A72DABF94-santas

The Riley's Student Council is sponsoring the "Holiday PJ Day" Fundraiser. Each student and staff member will pay $3 to wear holiday themed pjs.

Riley's Student Council sponsored "CRAZY HAIR DAY". Enjoy the pictures of these crazy hairstyles.