Week of October 4, 2021
HISPANIC HERITAGE MONTH:
September 15th until October 15th is Hispanic Heritage Month. Here at Riley Elementary School, we celebrate and recognize many different cultures and background to expose to our students to a variety of lifestyles and celebrations around the world. This month we have been celebrating by watching videos, reading stories, learning fun facts, and doing fun activities like the word search featured in the picture. Our principal Ms. Valarezo, School Counselor Ms. Ashnault, and Social Worker Ms. Oleyede facilitated a small group with some of our Riley Rockstars. They watched a video, talked about different Hispanic Countries and did a fun "I Spy" activity.
---
STUDENT HIGHLIGHTS:
Each month we highlight students that are selected for our Student of the Month. Students are chosen by their teacher for demonstrating the character traits of the month. Each student receives a Student of the Month certificate along with a $5.00 card donated by Ms. Valarezo. Each winner gets their picture taken and we proudly display this on our Student of the Month wall. September's character trait was Responsibility. The following students are being recognized for the month of September:
Pre-K-Miss Renna- a.m. – Alannah Mahoney
Pre-K-Miss Renna- p.m. – Malik Wardeh
Pre-K Mrs. Miller- Ayaansh Patel
1st-Mrs. Bohl-Ravi – Arianna Graham
1st-Mrs. Gaster – Griffin Gemenden
1st-Mrs. Leigh – Arielle Rosales
2nd-Mrs. Lando – Andrea Zapata-Gomez
2nd-Mrs. Ramsey – Gabriella Feliciano
2nd -Mrs. Sottiriou – Lincoln Fyffe
3rd -Mr. DeFroscia – Emily Santanostaso
3rd-Mrs. O'Brien – Dylan Fusaro
3rd-Miss Ventura – Abiha Saquib
3rd -Mrs. Winter – Naila Quow
4th-Mrs. Dispenziere – Ethan Santanostaso
4th-Mrs. Meyer – Alexander Grajko
4th -Mrs. Rafalowski– Juan Marroquin
STAFF MEMBER HIGHLIGHT:
In addition, each month we highlight staff members that are selected for our Staff Member of the Month and they each receive a Staff of the Month certificate and we take a picture of each staff member selected and we proudly display on our Staff of the Month wall. Students nominate their teachers and staff members for demonstrating the character traits of the month. September's character trait was Responsibility. The following staff members are being recognized for the month of September :
Mrs. Rankin - Secretary
Mrs. Meyer - 4th Grade Teacher
Mrs. Dispenziere - 4th Grade Teacher
Mrs. Sottiriou - 2nd Grade Teacher
Mrs. S. O'Brien - Paraprofessional
Mrs. Giakas - Resource Teacher
Mrs. Miller - PSD Pre-School Teacher
Mrs. Publik - Kindergarten Teacher
---
Plants, Animals and Landforms, Oh My!
October is a great time to be a third-grade student at Riley School!
Our third-grade students have been working hard in Social Studies, learning about the environment as well as land and water found across the United States. They worked diligently researching and recording information about national parks found in the United States. They studied plants, animals, and land features found in these parks. The students were actively engaged in creating and sharing their google slides with their classmates. This project was fun, exciting, and educational, all in one google slide!
Here are two examples of their hard work.
---
Week of October 11, 2021
On October 13th, Students in Riley School had the pleasure of attending the Mystery of the Character Surprise Assembly. It showed students how making good choices will help keep their school bully-free. They also learned about character-building Lifeskills that will bring them lots of benefits - both inside and outside of school. In addition, they learned useful tools to help stop bullies in their tracks.
---
---
Week of October 18, 2021
This week we had wonderful presentations by our School Resource Officers! In honor of School Violence Awareness Week our SRO's will be visiting each classroom to teach our students about safety and stranger danger. In Accordance with the New Jersey School Association (18A:36-5.1) all schools are required to annually designate the third week in October as School Violence Awareness Week. School districts observe this week by providing age-appropriate instruction to discuss methods for keeping schools safe from violence, to consider school safety and security plans, and to learn how to recognize students in need of help.
The students were able to ask questions and engage in conversations about safety in school, outside of school and online. We even learned key phrases to yell if we ever encounter a stranger danger situation. These key phrases are "STRANGER DANGER!; HELP! and I DON'T KNOW YOU GO AWAY!"
A big thank you to our SRO's Zachary Melanson, Anthony Louise, and Rene Marte III for volunteering their time to come into our classrooms to teach our students about safety.
---
Week of October 25, 2021
Election Day and Student Council Elections.
Our 4th grade students have been learning about elections and voting through our Student Council process led by Mrs. Dispenziere, Student Council Advisor and Mrs. Meyer . In each 4th grade homeroom, students had to select 1 student as a presidential candidate, 1 student as a vice-principal candidate and 1 student as a secretary candidate. These 9 candidates had to write speeches and make posters to campaign for the roles of Student Council President, Vice-President, and Secretary. On October 18th, the candidates were able to give their speeches in person to the 3rd and 4th grade students in our gymnasium. The election was held inside the student's homeroom classes, utilizing google forms. The winners of the election were announced on October 19th in Ms. Valarezo's morning announcements and posted in our election day slideshow on Ms. Ashnault's google classroom.
The Presidential Candidates:
Noemi Hirsh
Ava Gaster
Ethan Santonastaso
The Vice-Presidential Candidates:
Fiona Ramdawar
Jake Butrico
D'Vonna Villalobos
The Secretarial Candidates:
Byron Bonilla
Una Bermingham
Cecilia Tapanes
Student Council Winners:
President- Ethan Santonastaso
Vice-President- Jake Butrico
Secretary- Cecilia Tapanes
---
Week of November 8, 2021
Career Day at Riley School
On November 9th John E. Riley Elementary School hosted its 4th annual Career Day event. November is National Career Exploration Month; Career Day is designed to meet specific learning objectives; a Career Day helps students connect what they are learning in school with the workplace. This even was organized by Ms. Carly Ashnault, School Counselor.
During our Career Day, students listened attentively to the presenters and navigated the event inside of the gymnasium as well as outside with their classroom teacher. Students sought information about the industry and the career options it provides. Students truly enjoyed meeting and speaking to our presenters. We also had asked students to dress up in the career that they could see themselves in the future.
Ms. Ashnault provided our teachers with various attachments for students to do some fun career day coloring pages, a slideshow, and an interactive notebook.
Slideshow: https://docs.google.com/presen...
In Mrs. Winter's 3rd grade class, students took notes during each presentation and when they returned to the classroom, they had discussions about the different presenters. Each student selected one presenter that they wanted to thank and wrote a thank you note stating why they loved their presentation.
Career Day presenters were asked to have four talking points:
1. What subjects did you learn in school that you use in your job today?
2. What personal management skills do you use every day? (example: focus, time management, self-control, rule-following, etc.)
3. How did you decide to study and pursue this profession?
4. What is your favorite thing about your job?
Our Career Day presenters were all parent and community volunteers. Here is a list of our volunteers:
Marketing for Bilingual Education - Rose Zaremba
Twin City Pharmacy - Mr. Ashnault
South Plainfield Board of Education Resource Officers:
Juvenile Detective – Sergeant – Chris Collucci
Juvenile Detective – Rene Marte
School Resource Officer – Zachary Melanson
School Resource Officer – Anthony Louise
Parents
Nurse – John Butrico
PSE&G Lab Scientist – Dwaine Hunter
Construction – John Dean
Architect – Elvis O. Diaz
Vice Principal of J. Christian Bollwage Finance Academy at the Elizabeth Public Schools – Mr. Almeida
Firefighter/EMS – Holly LaFerrera
---
---

Week of November 15, 2021
Wingman Leaders Partner Up with our Kindergarten Students for a Fun Activity
On Thursday, November 18th, Riley School's 4th grade students participated in their monthly Wingman Activity. Pictured are 4th grade and Kindergarten students working together during the scheduled character education lesson. Wingman consists of Wingman Leaders as well as a Wingman Family. Our leaders are 18 fourth grade students that were selected through an application process at the end of 3rd grade. The leaders received training and are tasked with running the activities inside of the kindergarten classrooms while our 'Wing Family' (our other 4th grade students) are there to assist the kindergarteners in the lesson being presented.
Our 4th grade students enjoyed having the opportunity to teach and assist our Kindergarten students. They in turn enjoyed having an older 'buddy' that they can see in the hallways and in the lunchroom. The Wingman Program strives to promote a positive school climate and builds trusting relationships between age levels.
The Wingman Leaders work hard to lead by example and showcase their leadership skills during each activity. Our Wing Family members work equally as hard to be the best participants and buddy pairs that they can be. The program is run through the guidance department, and Ms. Ashnault, School Counselor meets with our Wingman leaders to train them for the activity the day prior to the event. Then, on the day of the event, the leaders run the activity as if they were the teachers. The goal is to build independence, confidence, leadership, and public speaking skills within our leaders.
---
---
Week of November 22, 2021
Thankful Second Graders
This month Mrs. Lando's second grade students shared what they are thankful for this Thanksgiving. The students made handprint turkeys and wrote letters to their parents. They read a Thanksgiving book and listed the many people and things they are thankful for this Thanksgiving.
We are thankful for …
Mateo - my teacher, Mrs. Lando
Skyler - my family
Avery - my classmates
Macie - being alive
Mason - my siblings helping me with my chores
Anna - my Mom and Dad
Lizette - my little brother
Thomas - my older brother
Richard - my principal, Ms. Valarezo
Vanessa - my Grandma taking me to Walt Disney World
Ariana - my teachers
Andrea - my cousins
Landon - going to school
Madelyn - Gracie, Grandma, and Grandpa
Layla - my gerbils, Gary and Nibbles
Dylam - helping people who need food for Thanksgiving
Mehr - my toys and pizza
Rooney - my cousin and phone
Peyton - my dog, Dunkin Chase-football
---
Week of November 29, 2021
Student Council Running a PJ Fundraiser for Needy Families
Our Student Council is showing empathy and care towards others. They ran a Pajama Day two weeks ago and raised about $400.00. This money was given to Mrs. Shirley Thompson a local town volunteer who assists homeless and needy families. A few days ago, she came to Riley School and spoke to our 4th graders and Student Council and shared how she cooks for other people that need food on Thanksgiving. She shared that she delivers over 100 meals for needy families. In addition, she told them that on Christmas she delivers toys and waits to have her holidays just to make other people's holiday brighter.
On December 8th, our Student Council will spearhead another Pajama Day to raise money for needy families. They are promoting this throughout the school and are asking our student body to donate $2.00. All money raised will be donated to Shirley Thompson so that she can continue assisting needy families in South Plainfield.
---
Week of December 6, 2021
Safety Patrol Program Keeping Riley Students Safe
Our Safety Patrol Program at Riley School consists of 31 fourth graders. Mrs. Lori Meyer is the Safety Patrol Advisor, and she works with the students and teaches them the proper protocols and roles of each job that is assigned. The fourth-grade patrols joined Safety Patrol in September. They completed an application process, and they must demonstrate good character, show responsibility and leadership skills, maintain good grades and be a role model in the school. The patrols have different roles to perform. Some patrols provide guidance to the younger students outside in the morning. Other patrols are responsible for opening the doors at each exit to allow students and staff to safely enter and exit the school building. A large portion of safety patrols are a huge help to the younger students at Riley School as they serve as their role model and the younger children look up to them. Safety Patrols is responsible for helping them get to their classroom line from the bus in the morning. They also guide the students to the correct bus line at the end of the day. They help maintain hallway traffic and they ensure everyone is safely navigating the halls. Our Riley School safety patrols help make our school a safe place to be.
---
Week of December 6, 2021
Winter Wonderland at Riley School!
Art with Ms. Mandaglio
During the month of December, students have been joyfully creating winter and holiday inspired art works In Art Class with Ms. Mandaglio. In Kindergarten, students made wreaths out of their handprints! 1st Graders worked on drawing cute winter penguins (pictured & highlighted below). 2nd Grade students created unique snowflake ornaments. 3rd Grade students are painting a snowy tree landscape, while the 4th graders are making their own jingle bell ornaments.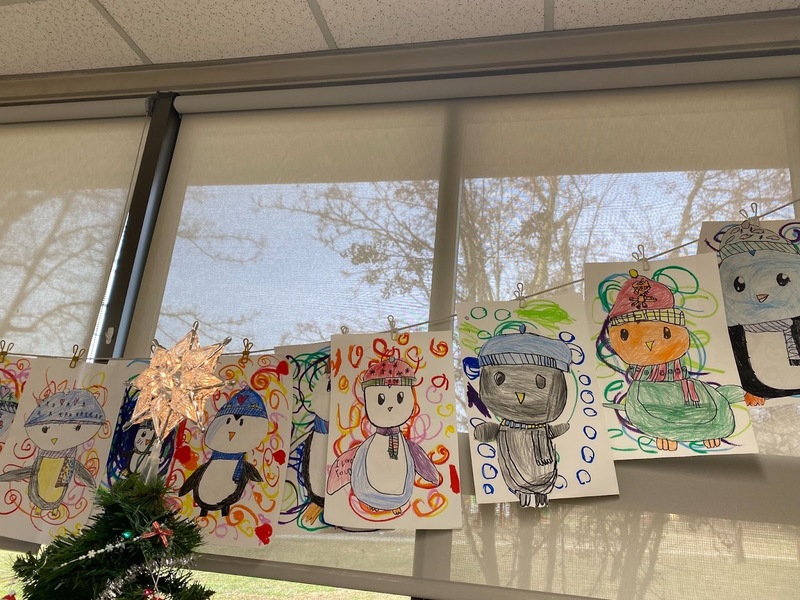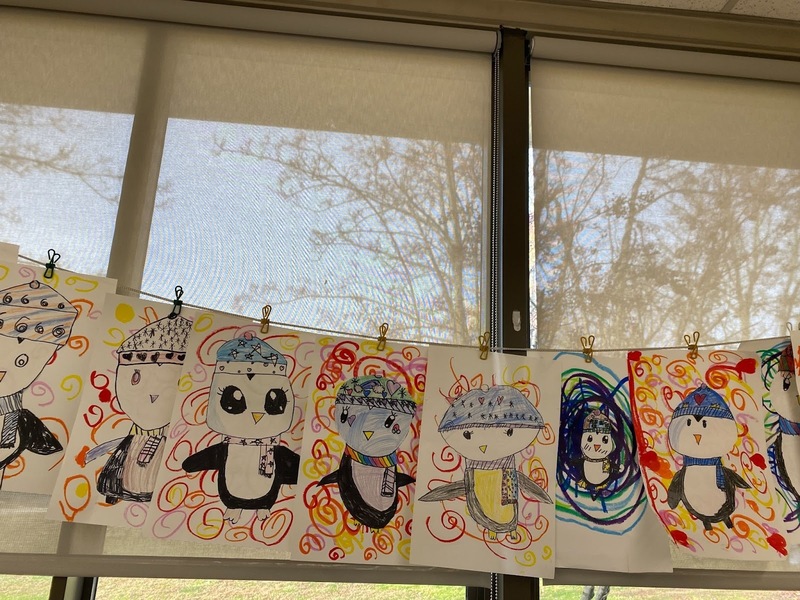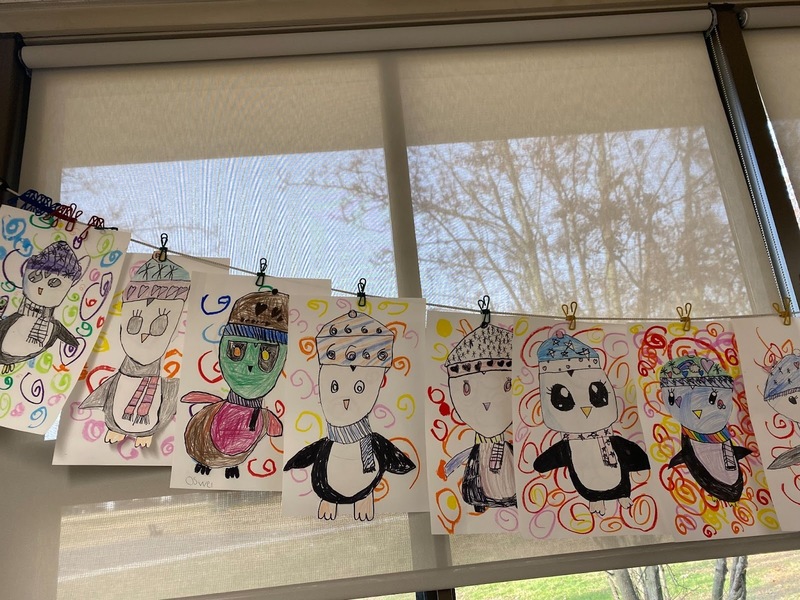 Pictured holding their penguin masterpieces are:
Zoe Carangui Salazar & Shawn Butrico from Mrs. Bohl-Ravi's Class.
Quentin Fourre & Nicholas Shehu adding the final touches to their penguins.
Louisiana Moreno Larreta from Mrs. Bohl-Ravi's class coloring her winter penguin.
In the photos attached, check out how Ms. M turned the gym entrance into a gingerbread house! Next to the gingerbread house is a Winter Wonderland Snowman mural. Oh, what fun!
---
Week of December 20, 2021
Third and Fourth Grade Chorus, Orchestra, and Band students put on an amazing performance for our Students, Staff, and Parents on Monday, December 20th. Students have practiced throughout the first months of school, coming before school hours and using their recess time to rehearse. The Riley School ensembles range in size from 15 students to about 35. The ensembles performed seasonal selections and holiday music. The Riley chorus and orchestra were directed by Mr. Tobie Baldwin, and the Band by Mr. Mark Tweed (who also directs the bands at Grant School). The students did a wonderful job. Mr. Baldwin notes that, "We were grateful to have the opportunity to showcase the talents of our Riley School Students after a two year absence from live school performances". We are proud of all they have accomplished. Please check out their performance below.
---
Week of February 7, 2022
Kindergarteners Show 100 Ways We Can Make a Difference
This week the Kindergartener classes have been bringing in 100 cans of food to donate to the Food bank in South Plainfield. It is a way for school children to "give back to the community." Families were asked to bring in 1 can of food, and many were very generous and sent "bags" of food!" Last month, all the kindergarten classes made "Kindness Cards" for the veterans at Menlo Park Veterans Home, and we are continuing our community service, by performing another act of kindness, donating to families in need. Today, in the kindergarten classes they were celebrating the the 100th Day of school to reflect on how many days of school they have already completed, and to celebrate that they are "100 Days Smarter!" When the students came to school in September, most 5-year-old could not write any words, or numbers, and only a few could write their name. Now, in February, they are writing many words, counting, adding and subtracting, and doing amazing things!
Today, they will culminate the 100th Day of School by participating in many hands-on activities, that spans all subjects. It is a way to develop numeracy skills, writing skills, critical thinking and show our artistic abilities. Students will write what words they know on our "We Can Write 100 Word Chart." We also will be doing 100 exercises (10 hops, 10 arm circles, 10 toe touches, etc.) and singing and dancing to Jack Hartmann on YouTube " Let's Get Fit - Count to 100!
---
Week of February 14, 2022
Love is in the Air at Riley School!
Students celebrated Valentine's Day in art class with Ms. Mandaglio this week as they created artwork inspired by love. Pictured below are the Heart Mandalas by 1st grade, Abstract Hearts by 2nd Grade, and Radiating Hearts by 3rd grade. 1st grade students learned about mandalas and how to draw intricate patterns. 2nd grade students were inspired by famous artist, Piet Mondrian, and practiced his style of only using angles and primary colors in their hearts. Meanwhile, 3rd grade students created Radiating Hearts by painting their feelings with watercolor paint and creating a radiating background to make their art stand out.
---
Week of February 21, 2022
Riley's 4th Grade Students Participate in Cross-Curricula Project
4th Grade Students at Riley School enjoyed a cross-curricula project between Art class and Library. Students had the opportunity to paint onto book ends for our school's library. They had the artistic freedom to design their book end any way they wanted. Pictured below are some of the many bookends our 4th graders made. Some were inspired by abstract art, splatter paint art, animal print designs, and the galaxy. Natalia Tapenes from Mrs. Meyer's class painted a tribute to the Twin Towers onto her book end. Overall, students worked together to create unique bookends that will surely brighten up our school's library.
---
Week of February 28, 2022
4th Graders Read Across Riley
This week at Riley School, students participated in a variety of reading activities to celebrate Read Across America. Our goal was to assist students in developing a love for reading. Throughout the week, students were exposed to a variety of books presented by their classroom teachers. To involve everyone in the reading celebration of Read Across America, our 4th grade students selected fun and appropriate grade level books with their teacher's assistance. On March 2nd, at 2:00pm, our 4th grade students visited each classroom and read aloud a book of their choice to the classroom assigned. Students in all classrooms visited, enjoyed listening to our 4th graders as they were read to. All the students truly enjoyed interacting with our 4th graders. We are so proud of them for sharing and doing a great job! In addition, on Friday students were able to dress up as their favorite character of a book.
March Madness at Riley School!
Ms. Ashnault and Ms. Oloyede have created Riley Elementary School's very own March Madness. This is not just any March Madness, this bracket solely focuses on coping skills! Students were asked to vote which coping skills were their favorite through a Google form. Once the voting closes on Friday, March 25th, the winning skills will be moved to round 2 and a second survey will be completed. Ms. Ashnault and Ms. Oloyede have created a giant display here at Riley Elementary School for all of the students to view and get involved with. We are encouraging our parents to use the digital bracket and practice some of the coping skills with their child at home!
March Madness Coping Skill Bracket 3-25-22
---
Week of April 25, 2022
First Grade Celebrates Earth Day!
First graders at Riley School celebrated Earth Day by making trash into treasure!
After learning about ways to reuse, reduce, and recycle, students were given the
task to find recyclable materials at home to make a fun project of their choice.
Teachers Jen Gaster, Jamie McNamee, and Kiersten Ravi encouraged their
students to be creative and imaginative. Many students created robots, rocket
ships, and trinket holders. Some unique projects included a ring toss game, a water
cooler, and a scuba air tank. The students proudly presented their projects to
their classmates, and have been displayed for the whole school to see!