Dear Riley Families:
Last year, the South Plainfield School District held an amazing event raising thousands of dollars for local charities and completing numerous service projects for the South Plainfield Day of Service. We are so excited to take part in the program again this year. On June 9, 2023, the district will hold its second South Plainfield Day of Service and invite all the South Plainfield community to join in. The Riley students have been working hard with their teachers to create service projects to for the entire school to participate in on the special day.
One of the service projects this year is collecting and filling backpacks for the homeless in our surrounding areas. We realize not everyone has the comfortable, warm bed to sleep in or a hot meal each night, therefore we will be collecting the following items over the next few months to donate to JK Blessings on June 9, 2023, so that they can distribute the backpacks to the homeless.
Our goal is to collect and fill 100 backpacks to donate on the Day of Service. One backpack can make a difference in someone's life. Please consider donating an item or two to the backpack project.
Please see the list of the items below we will be collecting from each grade level: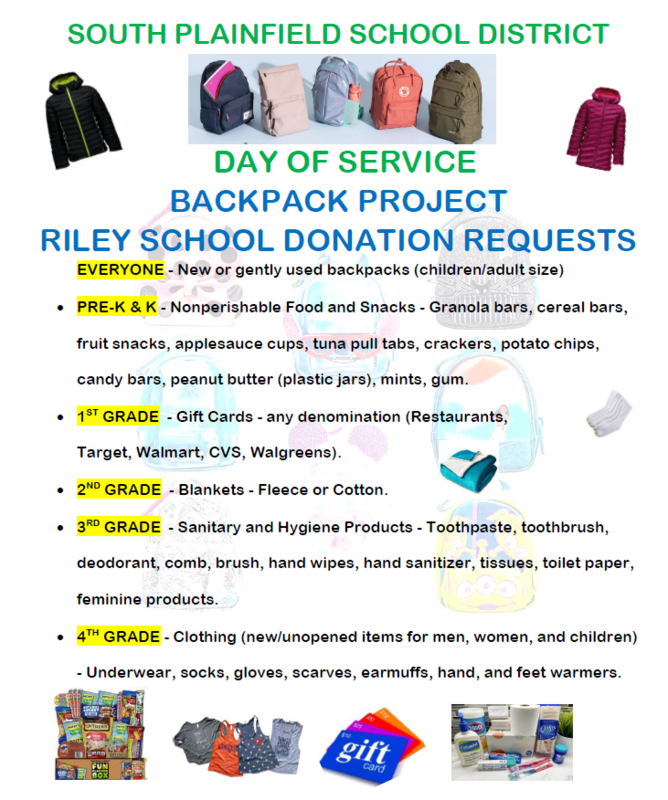 Thank you in advance for your continued support, dedication and contributions to making Riley School the best.
Sincerely,
John E. Riley Elementary School Day Of Service Committee